Two years of reading (2019-21)
Two years of reading (2019-21)
July 2021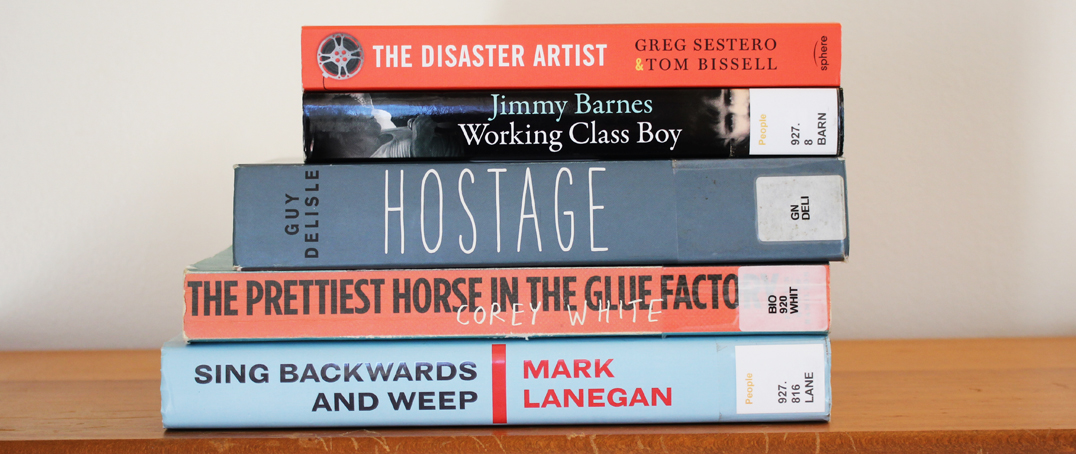 Top book recommendations
As with past years, I am using this as an opportunity to declare my favourite books that I read during the past two years. Here's my Top 5 countdown of the best books that I during the period 2019-2021:
#5: Working Class Boy (2016) by Jimmy Barnes
Jimmy Barnes is well-known to Australians as the frontman of Cold Chisel, as well as a solo artist with the highest number of ARIA chart-topping albums. His self-destructive habits of drug and alcohol abuse were part of the "Barnesy" rock star image that accompanied his musical career. In 2016, Barnes released his memoir Working Class Boy that told the tale of his life before he entered the public spotlight. This memoir covers the period from his birth in Scotland in 1956 up until the time he joined Cold Chisel in 1973 as a teenager.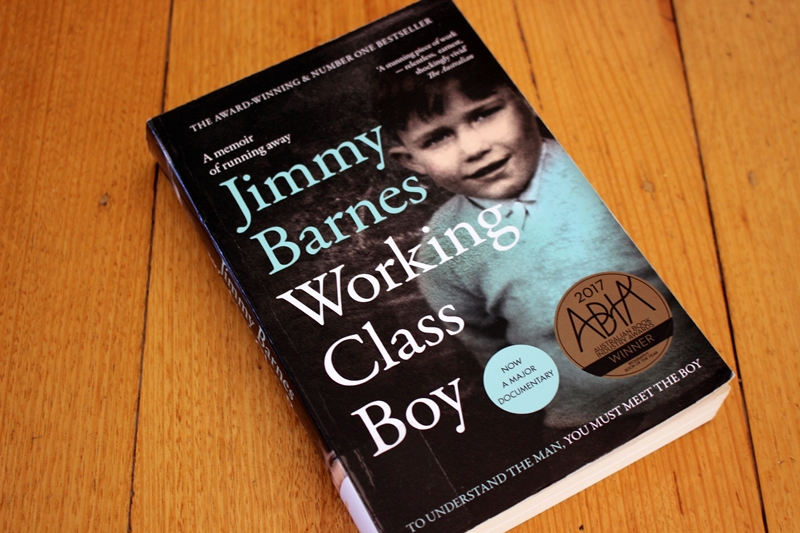 This book is impressive for the sheer amount of specific memories that Barnes was able to recall about his childhood, especially given the self-destructive turns that his life would take. Alcohol and violence are recurring themes in Barnesy's life, that were prevalent in his native Glasgow, as well as in the South Australian town of Elizabeth that he moved to at the age of five. Poverty, domestic violence and intergenerational trauma are illustrated through the eyes of a boy trying to make sense of the world. In response to these circumstances, Barnes began getting drunk at the age of 10, and spent his teenage nights roaming the town's streets with other wild characters.
Some of the most memorable passages are Jimmy recalling the experience of being a poor classroom student: underslept from the bloodbath that happened at home last night, a hungry stomach that had not been fed all day, unable to concentrate in class because the holes in his shoes had let water seep in and chill his feet. He describes how the parents of other children in his street would ban their kids from playing with his family, due to their chaotic ways.
Barnes ends the book as he loads his gear into Cold Chisel's truck, as they drive away to embark on the band's first tour. An second memoir, Working Class Man, would be released the following year, describing later events in Barnes' adulthood. But there is something of the rawness of this unflinching first memoir that makes it my top recommendation of the pair.
#4: Sing Backwards and Weep: A Memoir (2020) by Mark Lanegan
Mark Lanegan rose to fame with his band Screaming Trees, who emerged as part of the Seattle 'grunge' scene of the early 1990s. This gritty memoir details Lanegan's life up until his early thirties, a period that was defined by his raging heroin habit. As with Jimmy Barnes, I had merely a passing interest in Lanegan's music prior to reading this memoir, knowing some of the most notable songs and projects that he was responsible for. I was far from an aficionado of either man's careers.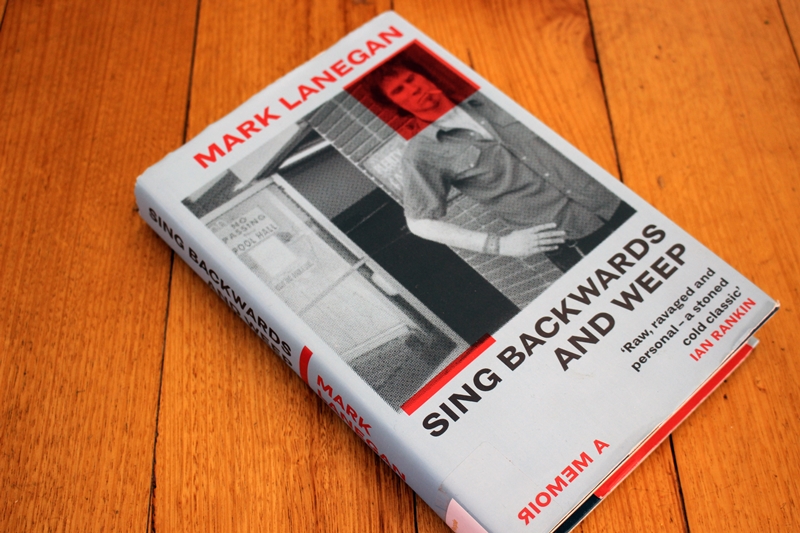 Lanegan is honest about the internal workings of Screaming Trees, whose first four albums were dominated by the songwriting of guitarist Lee Conner. Lanegan characterises Conner as a petulant man, prone to tantrums and embarrassingly childish behaviour. After enduring six years under the leadership of Conner, Lanegan finally insisted on greater creative influence on the band in 1992, a decision which lead to their breakthrough album Sweet Oblivion.
Lanegan positions himself at the centre of the major players of the Nineties rock scene. He was close friends with Kurt Cobain (Nirvana) and Layne Staley (Alice in Chains), as well as friendly associates with Chris Cornell (Soundgarden), Mike McCready (Pearl Jam). For the rock trainspotters, other celebrities criss-cross the memoir: Johnny Cash complements Lanegan for his performance, Nick Cave arrives at Lanegan's flat to buy drugs. And an entire chapter is spent describing the war between Lanegan and the obnoxious manchild Liam Gallagher during Screaming Trees stint supporting Oasis' 1996 U.S. tour.
The power of this book is Lanegan's revealing descriptions of life as a heroin addict. Lanegan describes addiction with a clarity that few writers have captured, painting a picture of a lifestyle that is consumed by the never-ending quest to buy drugs. As the decade rolls by, Lanegan's drug habit intensifies to near-fatal levels. He describes his 1996 tour of a blizzard-affected Europe, and the extreme effort required to constantly score drugs in the unfamiliar cities he visited. His minute-by-minute, hour-by-hour descriptions of desperation are brutally gripping.
Mark Lanegan and Jimmy Barnes' memoirs are both recommended reading, even for those unfamiliar with the musical output of the artist. They stand up on the sheer power of the vivid accounts of the lives that the creators needed to live and survive to tell the tales.
#3: The Prettiest Horse in the Glue Factory: A Memoir (2019) by Corey White
Australian comedian Corey White's memoir The Prettiest Horse in the Glue Factory is the story of a life characterised by family abuse and the failed foster care system.
The book has a clearly-written, engaging way that lets you see life through Corey's eyes at each stage of his life. The childhood sections have a heartbreaking naivety to them, showing the perspective of a boy who is unaware of the problematic elements of his upbringing. Both his Mum and Dad are poor at parenting, and are successively sent to prison, with his mother dying of a heroin overdose when Corey was aged 10.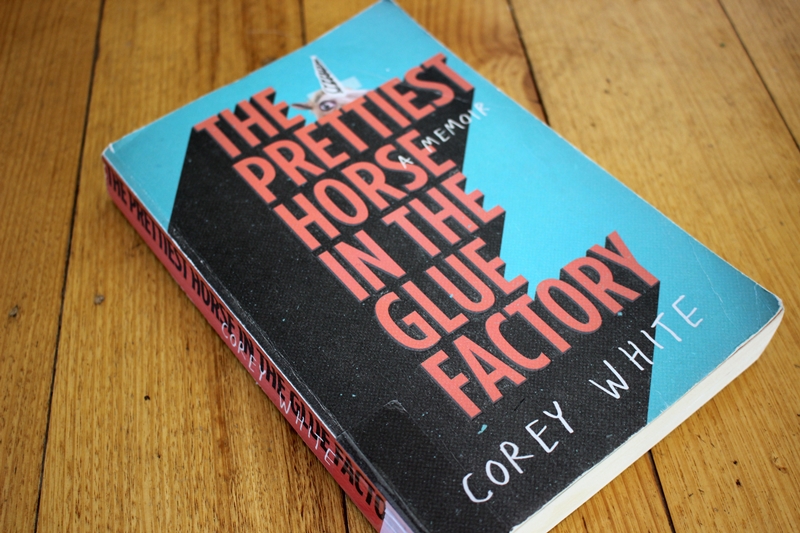 Corey is placed into the care of Social Services, and is bounced between the care of various foster parents before being assigned a placement with the diabolical Tracey. Tracey has both her own biological children and foster children, and runs a household that cruelly favours her biological children. Corey is constantly hungry, ill-clothed, and is repeatedly denegrated by his foster mother. In time, Corey is asigned a caring social worker who encourages him to apply for a scholarship to the elite boarding school Nudgee college. Corey excels at high school, working with a laser-like focus. But his young adulthood is tinged with a mixture of alcoholism, depression, and self-loathing. Through the lens of stand-up comedy, Corey finds a way to make sense of his past, and to heal his inner child.
Despite the numerous harrowing experiences that Corey experienced in his life, the book is written with a humorous and hopeful touch. He writes with the clarity of someone who has made through the other side of his trauma, and has found ways to redirect his experiences into making himself a better person. I recommend listening to the Wilosophy podcast conversation with Corey White: it covers separate territory to Corey's book, but carries the same tone of this impressive memoir.
I am aware that the above three books have covered similar themes: memoirs of writers describing their painful coming-of-age stories. I truly appreciated each of them, and found them hard to separate into a meaningful order of ranking. By contrast, the following two books on this list are on quite different topics.
#2: Hostage (2016) by Guy Delisle
My favourite comic that I read during the last two years is Hostage by French Canadian cartoonist Guy Delisle.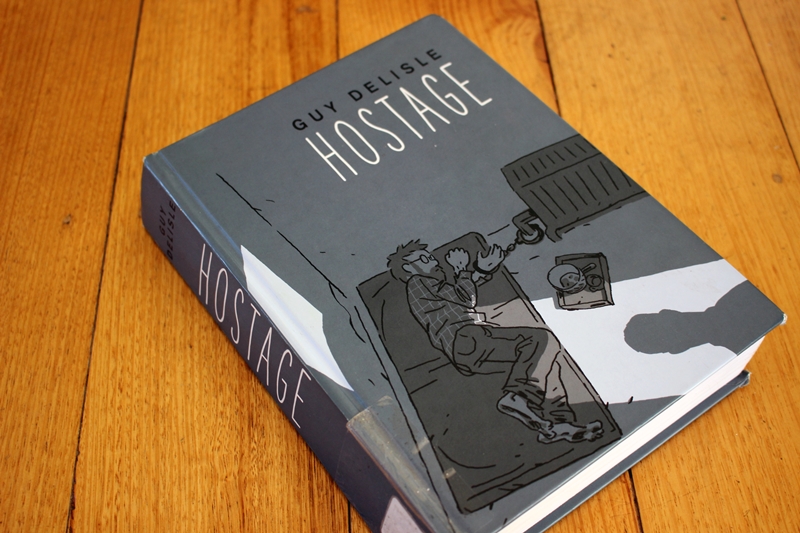 Hostage depicts the real-life 1997 kidnapping of Médicins Sans Frontières administrator Christophe André. André was captured in the middle of the night, driven across the border to Chechnya, and kept in solitary confinement in the spare bedroom of an apartment building. Guy Delisle interviewed Christophe André about his experiences twenty years after his release, drawing the story as a graphic novel.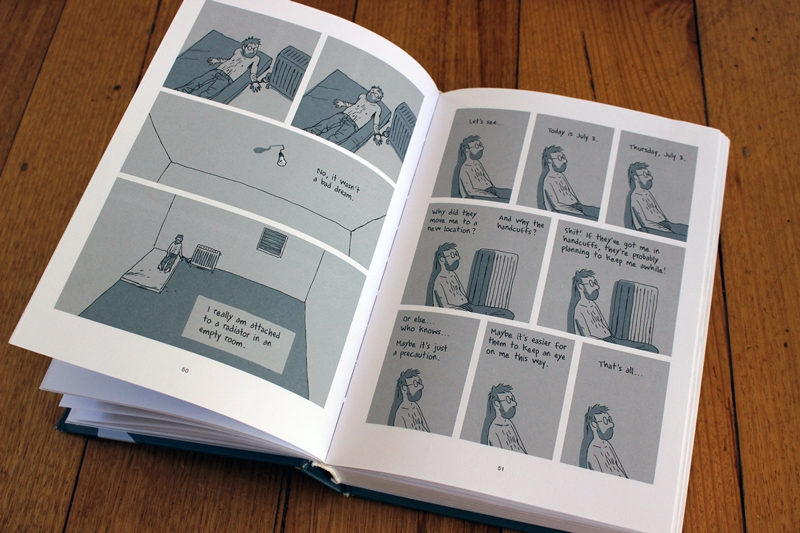 André was held in a room with his arm handcuffed to a radiator. Once or twice a day he was allowed to use a toilet down the hallway, and to eat meals delivered to his holding room. His kidnappers did not speak his language, as so there was never any explanation as to why he was kidnapped, though he assumed that it was to extort a ransom payment from his employer.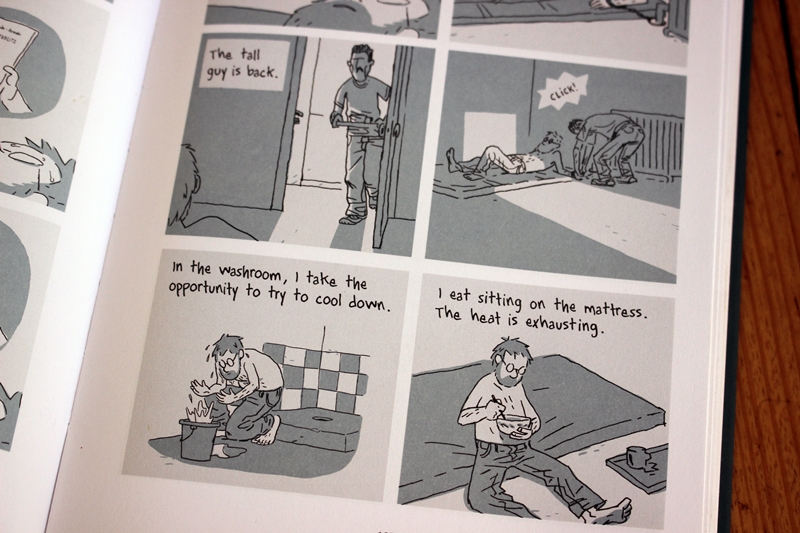 Speaking as a comics artist myself, everything about this book is brilliant from a technical perspective. The panel-by-panel artwork is an effective way to communicate the events of André's kidnapping, as well as the boredom and uncertainty of being held as a hostage.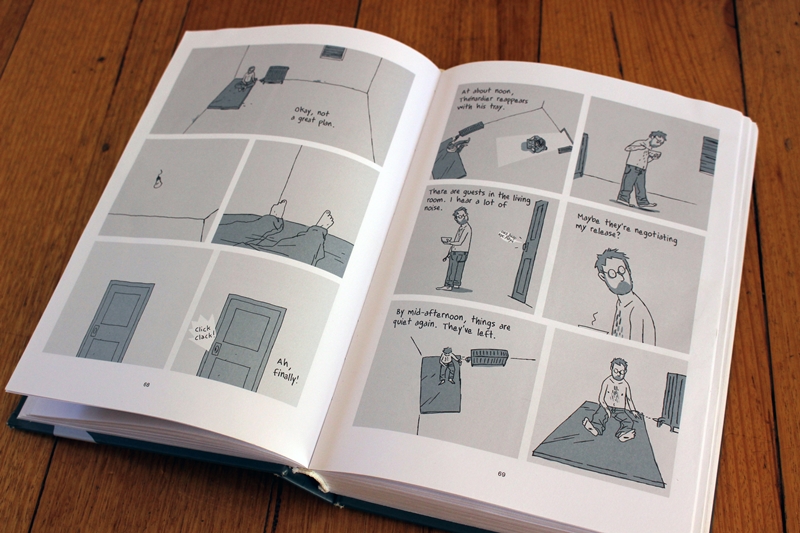 Being a hostage is worse than being a prisoner. This is because at least prisoners know the reason why they were jailed, and know how long their stay will be. They can count down the days to their release. By contrast, hostages have no idea how long their ordeal will last.
The comics medium brilliantly contrasts the static life of a hostage, with the inner workings of André's mind, as he endures his stay. Remember, he was alone in the room without even a book, or a notepad to keep him occupied. That is a long time to spend alone with one's thoughts, and Delisle's comic shows how this solitude can psychologically play out.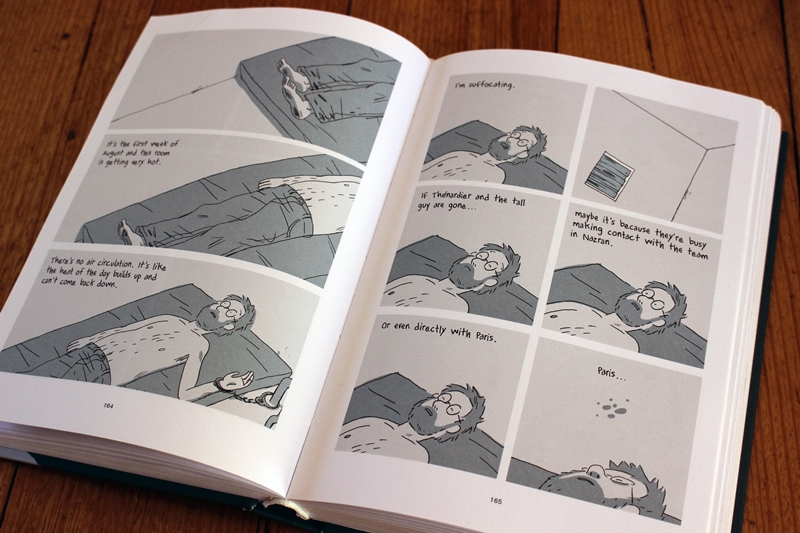 In this context, minor events became magnified in André's mind. For example, one time his captor spilled a small amount of soup when handing him his bowl. Uremarkable on any normal occasion, the soup-spilling became a weird focal point that repeated in André's mind.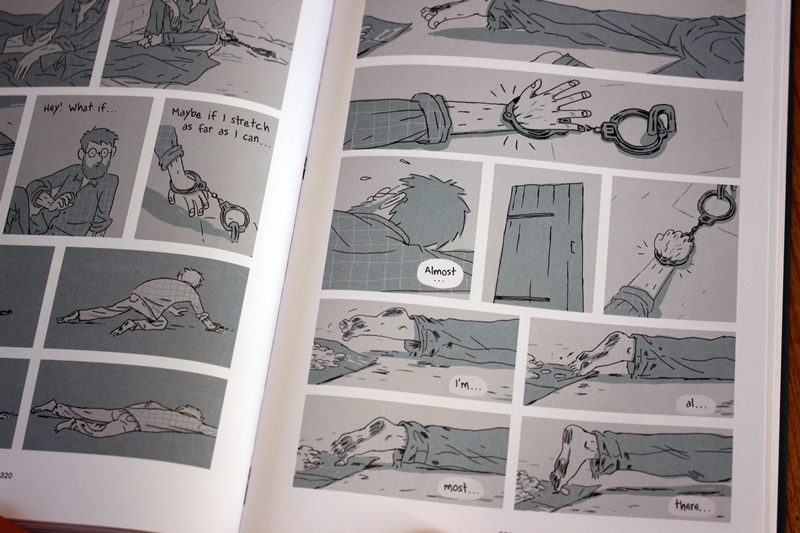 The 432 pages of artwork can be easily devoured in a 90-minute sitting. In fact, the final chapter of Hostage is the single most heart-pounding experience that I have had as a reader in a very long time! I won't spoil the ending, but Delisle did a masterful job depicting the nerve-racking way that André's hostage experience came to an end.
Along with other classics like Maus and Fun Home, Hostage is a story that could not have been told as effectively through any other medium besides comics.
Do yourself a favour and invest in reading Hostage by Guy Delisle.
#1: The Disaster Artist (2013) by Greg Sestero and Tom Bissell
If I had to narrow it down to just a single title, my favourite book that I read during the last two years was The Disaster Artist by Greg Sestero and Tom Bissell.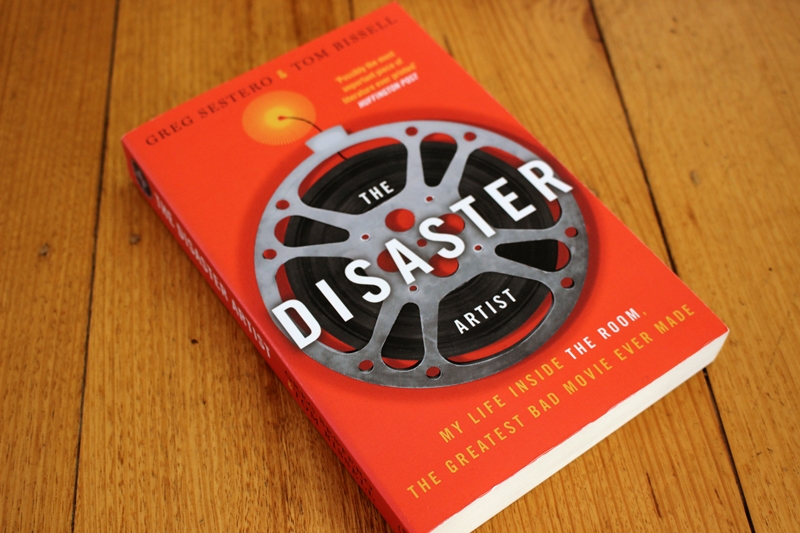 The book is an insider's account of the making of The Room, a cult classic film that has been described as "the best worst movie ever made". I have been a fan of The Room since I first saw it ten years ago, and always marvelled how writer/director/"actor" Tommy Wiseau ever managed to get his film off the ground. This book, written by the film's co-star Greg Sestero is a rollicking ride that shows the depths of bizarre that sat behind all of the Tommy Wiseau's head-scratching decisions. It shows that Sestero and all other cast and crew members knew how awful the film was while making it, repeatedly suggesting changes, yet the deep-pocketed Wiseau was determined to bring his peculiar vision to the screen.
Wiseau and his idiosyncrasies are fodder for much of the entertainment in this book. For example, take this description of Tommy's fashion sense: "I still can't unsee Tommy's outfit: nighttime sunglasses, a dark blazer as loose and baggy as rain gear, sand-colored cargo pants with pockets filled to capacity (was he smuggling potatoes?), a white tank top, clunky Frankenstein combat boots, and two belts. Yes, two belts." Sestero reveals so many facts about Tommy's peculiar past and bizarre habits. Particular attention is given to Wiseau's period managing the shoot of his film, which Sestero describes as "as horrifyingly transfixing as watching a baby crawl across the 405 freeway." Despite the information brought to light in this book by his best friend Greg Sestero, the secretive Wiseau remains a fascinating enigma to this day.
Of all the books in this year's list, The Disaster Artist was the most joyous it was to read. I was given this book as a Christmas present and read it during a family holiday at the coast. While reading the book, I repeatedly laughed-out-loud, and felt compelled to quote the book to whoever was within earshot. This book comes highly recommended, with the film adaptation of The Disaster Artist as a suggested accompaniment!
Full list of books read 2019-21
For my sake as much as yours, here is the list of all the books I've read in the last 2 years. This follows on from my previous six reading lists: 2008-09, 2009-10, 2011-13, 2013-15, 2015-17, and 2017-19.
Fiction
Biography
Comedy / humour
Architecture / design / urban planning
Economics : universal basic income
Environment / energy / sustainability / economics
Essays
Finance / money / investing
Memoir
Society
Relationships / love
Science / medicine
History
Comics / graphic novels: fiction
Comics / graphic novels: non-fiction
Comics / graphic novels: memoirs