Rat Park printed comic books – now available for purchase
Rat Park printed comic books – now available for purchase
November 2022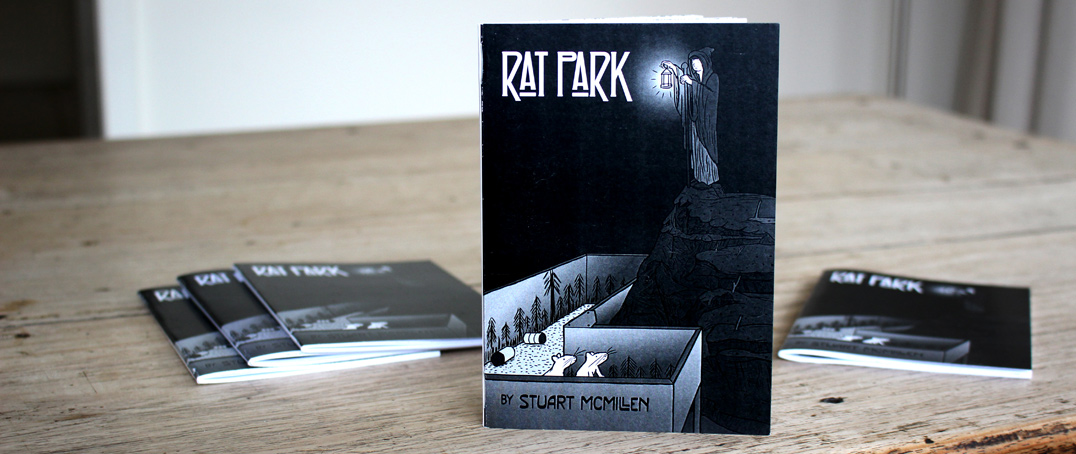 10 years since Rat Park was crowdfunded
Today is the 10 year anniversary of the conclusion of my Rat Park crowdfunding campaign, which successfully wrapped on 1 November 2012. I took this funding and began work on work on the 40-page comic, which I later published online on 29 May 2013.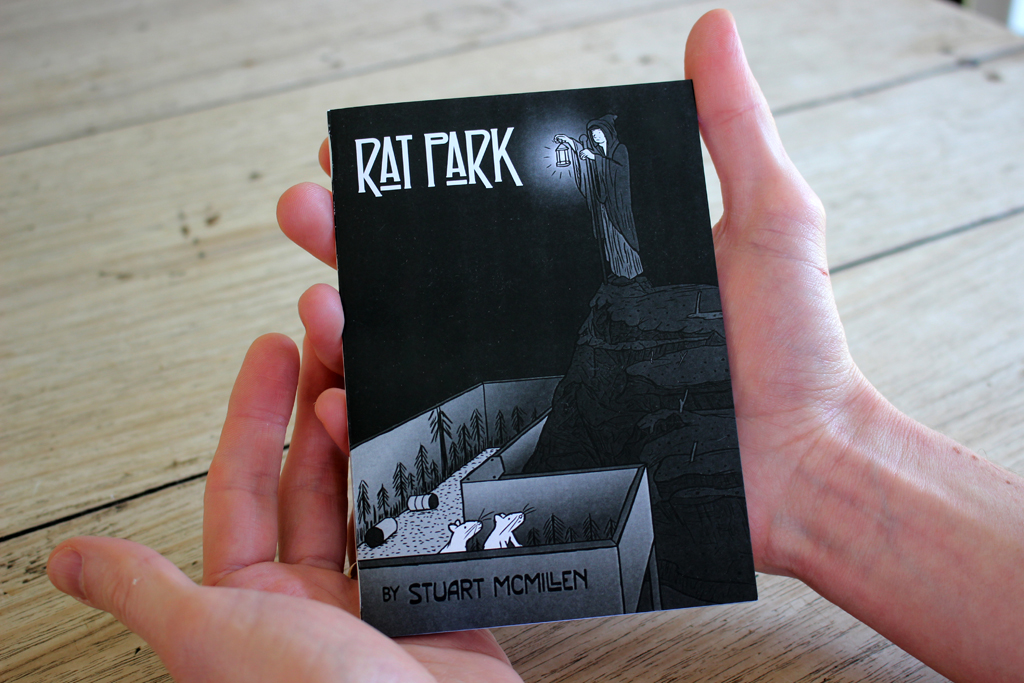 Rat Park has been my most enduringly successful comic, with many readers seeing it as a touchstone for sympathetically explaining the topic of addiction. As of 2022, the comic has been viewed over 700,000 times (by over 560,000 unique visitors) via my English language website, as well as over 160,000 times through translated versions on my website. The comic is prescribed as required reading in multiple college curricula around the world, and has even been published as a book in Japanese and featured in a U.S. college English textbook. I am proud of its success, and like keeping its flame alive.
To mark the ten-year anniversary, I am now offering printed Rat Park comics for the first time. Printed Rat Park comic books are now listed on my online store for A$10 per book. There are bulk purchase options available, aimed at addiction support groups who want multiple copies to distribute to their staff or clients. See the product page on my online store for more info.
Read ahead for more information about the creation of this new book, and the reason why I am offering bulk purchase discounts.
A printed comic book at last!
My self-published Rat Park comic (ISBN: 978-0-6455060-0-6) is A6 size, with a cardstock cover to give the comic extra weight and ruggedness. I have made it as close to a 'book' feel as I can muster with a 40-page comic.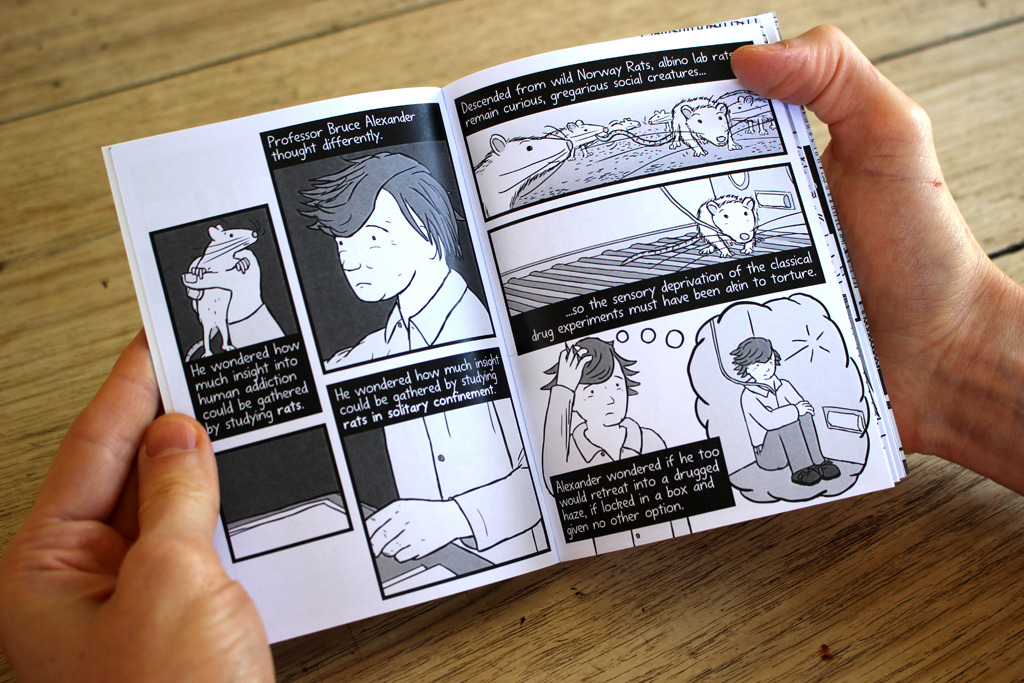 It is a satisfying little book to hold in one's hands and flip through, if I don't say so myself!
Why the long wait? 10 years as an 'online-only' comic
Right from the moment I published the comic online in 2013, I have had a steady stream of readers asking whether they could buy printed copies of Rat Park. To cut a long story short, I always put the idea on my mental back-burner and instead prioritised creating fresh comics to publish to my website. As I pushed ahead with new content, I comforted myself with the knowledge that readers would be able to read the comic for free via ratpark.com, even if they couldn't buy printed copies.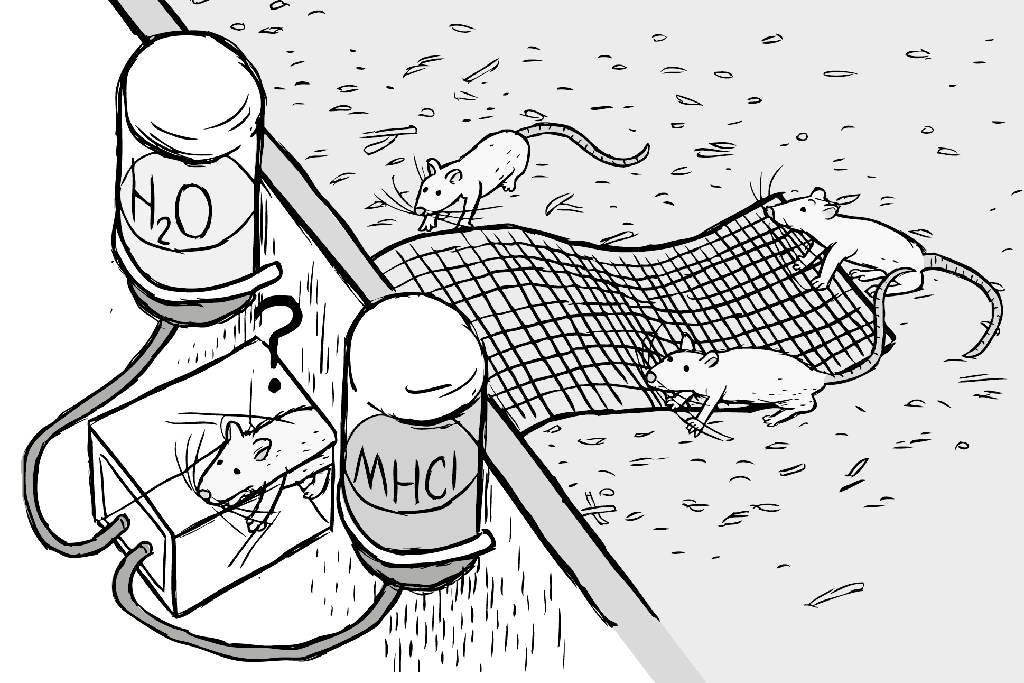 Approaching the 10-year anniversary of Rat Park's publication, I sensed that the time was right to prioritise the idea of a printed comic. I had decided to launch my online store and to begin selling art prints and greeting cards in my new Canberra Birds art series. Finally selling physical products for the first time in my career, I saw that it also made sense to sell printed versions of my most popular comic.
Of course, I will keep the comic online for anyone to read for free via my website. This new comic book is simply an extra way for people to access the story.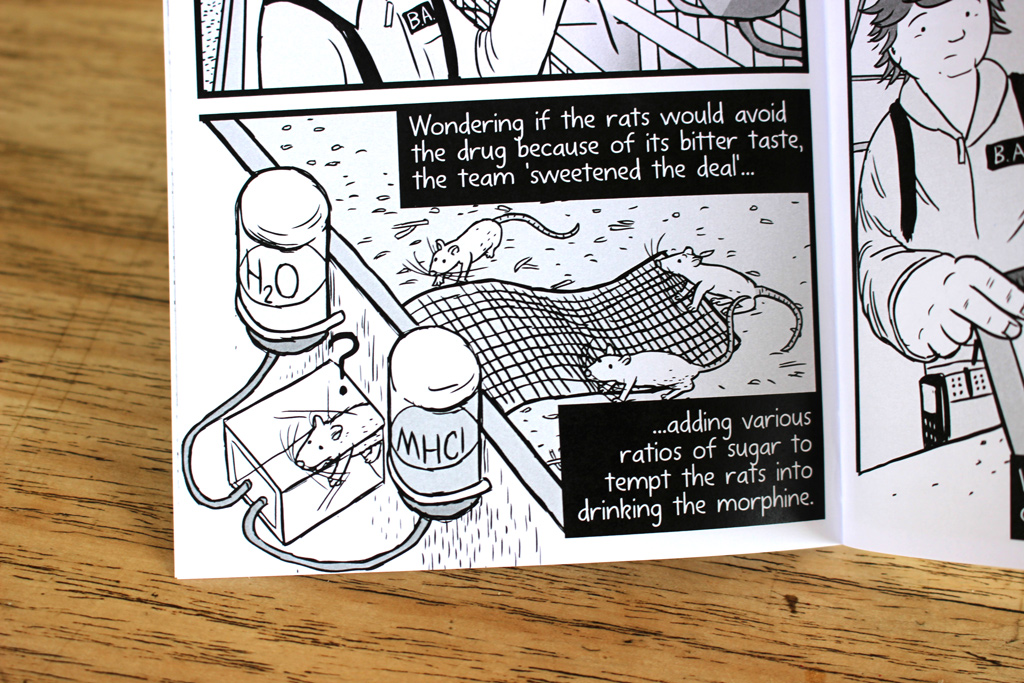 Discounts for bulk purchases
Over the years, Rat Park has been embraced by people who run drug rehabilitation facilities, addiction support groups, and similar organisations. The people organising these groups have shared Rat Park to offer the optimistic viewpoint that one's habits are not set in stone. Most often, the experiment's message is framed to mean that it is possible for a person to feel and act differently if put into a more positive environment.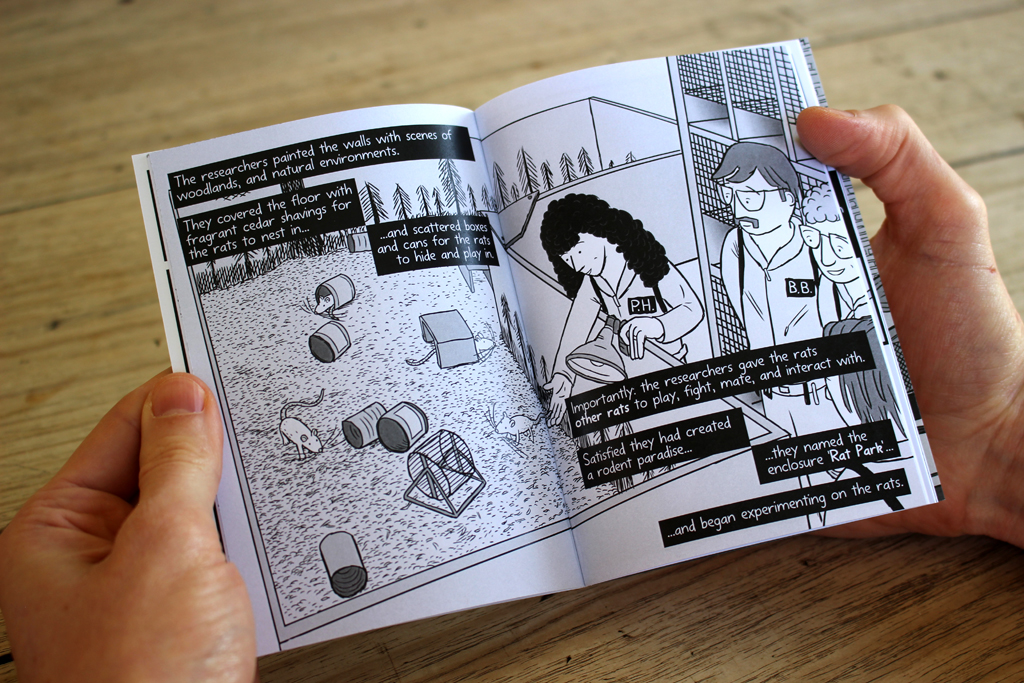 I know that many groups will want to buy the comics in large quantities, and hand to their staff and clients as an inspiring resource. Because of this, I am offering discounts for bulk purchases of my Rat Park comic books.
My online store offers differing unit prices for purchases of 1, 5, 10, and 20 comic books at a time. If you are considering bulk purchases in quantities greater than 20, I encourage you to email me directly, and we can come to a custom pricing agreement.
Visit my online store product page for my Rat Park comics.
Publication information, book specifications
Since I am self-publishing this book, here are the relevant details of the title:
General information:
Title: Rat Park
Author: Stuart McMillen
Publisher: self-published by Stuart McMillen, Canberra, Australia
Manufactured: printed in Canberra, Australia
Sales channel: sold through Stuart's online store
Publication date: 1 November 2022
ISBN: 978-0-6455060-0-6
Book format: A6 saddle-stitched comic booklet
Number of pages: 40 pages
Physical dimensions:
Length: 148 mm
Width: 105 mm
Thickness: 3 mm
Weight: 37 grams
Description / blurb:
A thought-provoking comic about a classic experiment into drug addiction science from the 1970s and 1980s. Professor Bruce Alexander from Simon Fraser University in Vancouver, Canada wondered whether or not rats would choose to take drugs if given a stimulating environment and social company. Alexander and his colleagues created a large social enclosure nicknamed 'Rat Park' in his Department of Psychology offices, and ran experiments on rats using morphine. The team of scientists compared the socially-housed rats' consumption habits against those of other rats that were housed in solitary cages.
Stuart McMillen's distinctive comic artwork explains the scientific experiment step-by-step. In short, the Rat Park experiments found that the rats in the cages behaved very differently to the rats in the social enclosure. The rats in social company were far less likely to take morphine than the rats that were held in isolation. The comic concludes with Bruce Alexander grappling with the implications of his research for human drug-use patterns, and addiction more broadly.
First published online in 2013 by Australian comics artist Stuart McMillen, Rat Park has been read by hundreds of thousands of readers, and translated into multiple languages. By popular demand, the comic is now available in print as an attractive A6-sized 40-page book.
Cover artwork: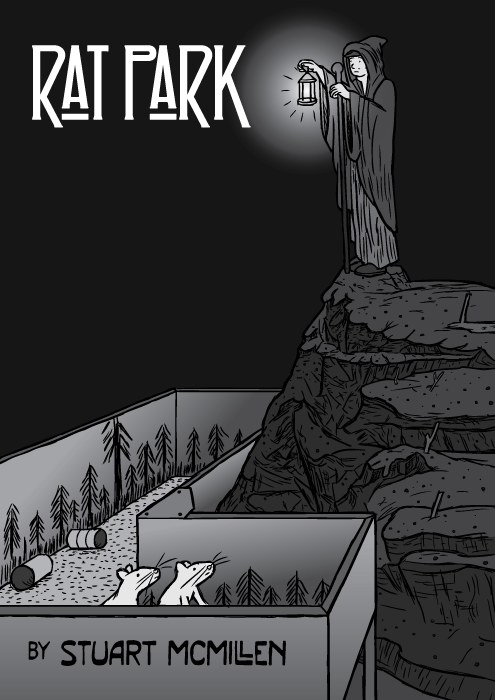 (Higher-resolution versions available as either JPEG or PNG image formats).
Author photo: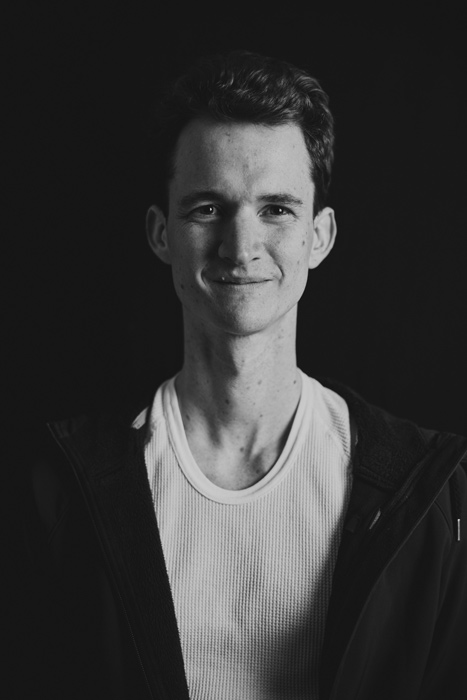 Photograph of Stuart McMillen in 2022, taken by Andrew Sikorski. (Click for higher-resolution version).
Publication history:
This A6 comic is a new edition of the primary work Rat Park. The primary work was originally published as an online comic on 29 May 2013, and remains online to this date. A limited run of A5-sized comics were posted to 80 people in late May 2013, who had supported my 2012 crowdfunding campaign. These A5 books did not have an ISBN, a title page, or an 'about the author' page. In hindsight, the A5 books were a less appropriate size than the new smaller A6-size comics.)
Pre-order open now
I am now accepting sales of Rat Park via my online store. As of today, I am still awaiting delivery of my full print run of comics from my Canberra-based printer. These should should be ready by mid-November. Once I receive supplies of books from my printer, I will fulfil the orders as soon as possible, to give the best chance of pre-Christmas delivery.