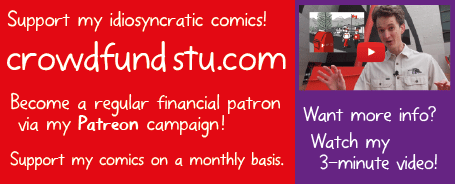 Things to do now you've finished reading Peak Oil:
• Read my reference list, for sources backing up the comic's statements.
• Read my essays about 'the making of Peak Oil', describing the 1,500 hours I spent drawing this Peak Oil comic.
• Want to read more of my comics? Start with my Top 10 list.
• Consider repaying me for your free 20-minute reading experience. Do so by becoming a recurring monthly patron via crowdfundstu.com.
• Link your friends and colleagues to this comic via peakoilcomic.com.
• Educate yourself about the implications of Peak Oil (and global warming, population growth, etc) for our civilisation's future.