The making of Peak Oil #3: snags and delays
The making of Peak Oil #3: snags and delays
May 2015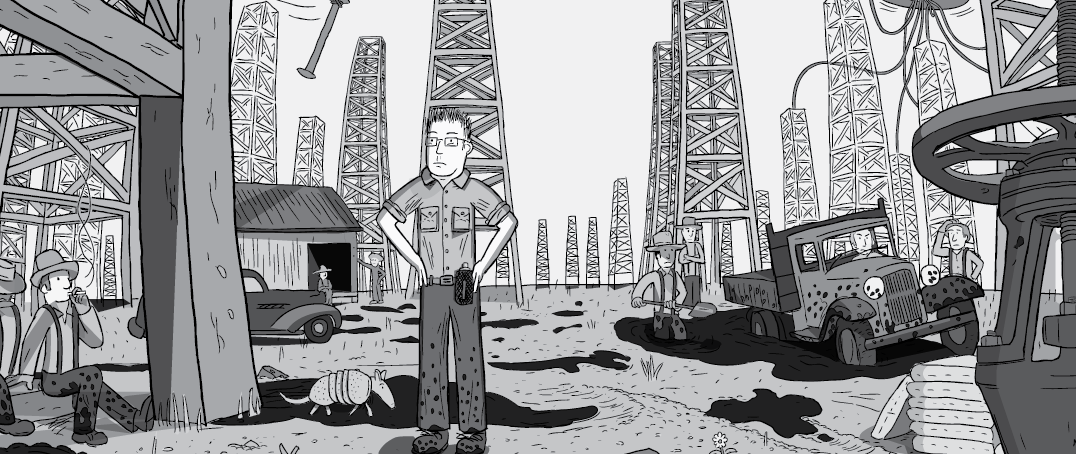 This is the third in a seven-part series covering various aspects of the Peak Oil comic's creation process.
Peak Oil was released in May 2015, nearly two years after my previous major comic Rat Park (May 2013). Why such a long time between drinks?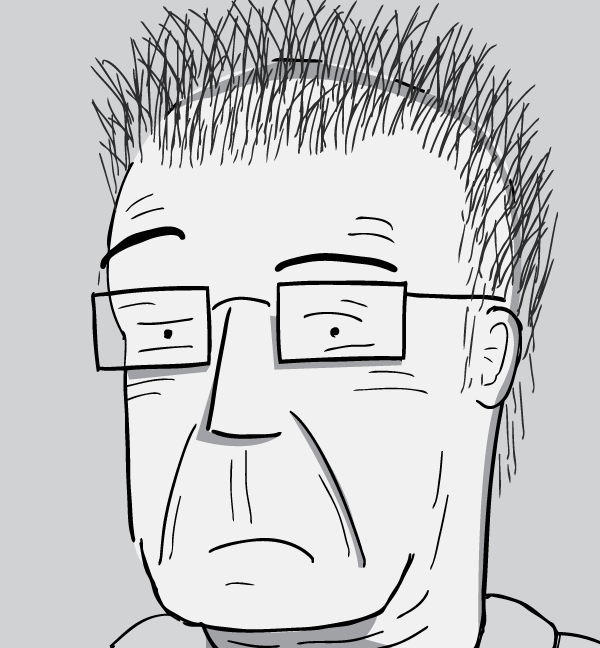 The delay was due to a number of reasons. Namely:
Delay reason #1: Length
At 120 pages, Peak Oil is the longest comic I have ever created.
By comparison, it is 3x longer than Rat Park, and 4x longer than War on Drugs.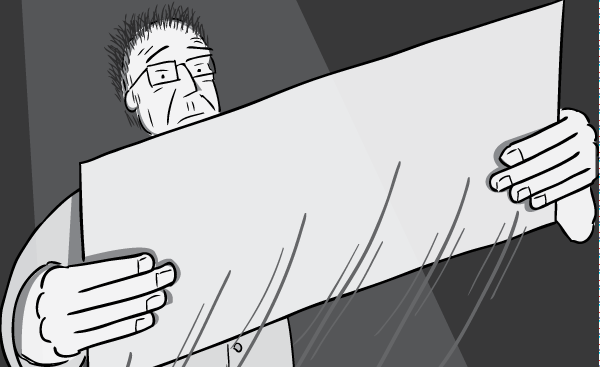 Right from the onset, I was dealing with a monster that would take a significant amount of time to create. This length compounded the other factors that I will discuss below.
Delay reason #2: Simultaneously planning four comics at once
Peak Oil [120 pages] is a small part of a larger book project, entitled Thermoeconomics [400 pages].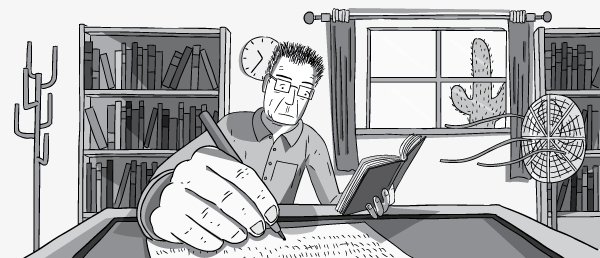 Thermoeconomics consists of four sub-stories about four individual researchers: King Hubbert, Buckminster Fuller, Simon Kuznets and Herman Daly. I expect it to be ready and released in 2016.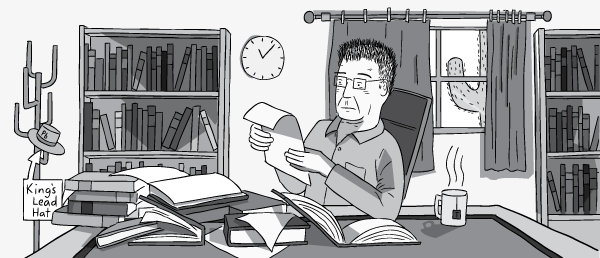 I decided to research, write and storyboard all four Thermoeconomics comics before I began drawing Peak Oil.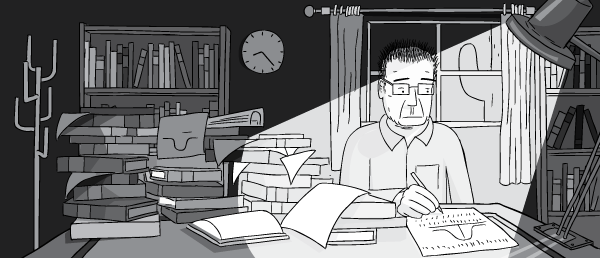 Accordingly, I had already done 715 hours of research, writing, and storyboarding before I even began my Peak Oil artwork. That is seventeen 40-hour weeks!
Delay reason #3: Technological struggles
I drew Peak Oil digitally, via graphics tablet. I had some annoying OS and hardware issues, which dogged me during mid-2014.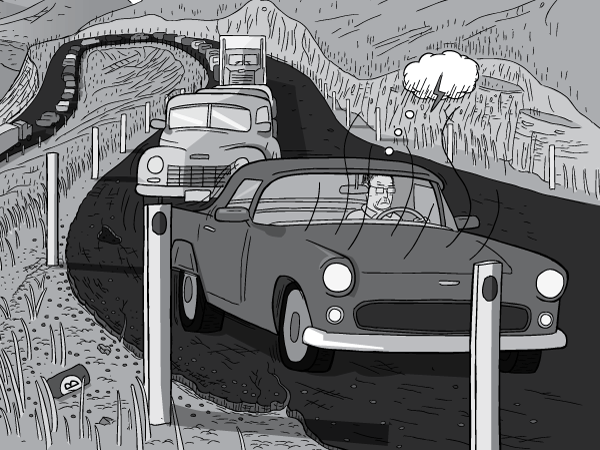 Delay reason #4: Artistic struggles
I originally tried to speed through the artwork-creation phase, with strict rules determining how long I was allowed to spend drawing each page.
These self-imposed limits notably hampered the artwork quality. The pages I was drew looked rushed, simplistic and uninspired. Ultimately, most of these pages were ditched. (see reason #5)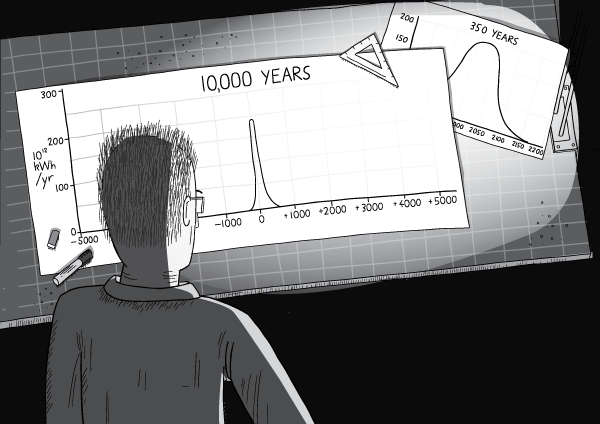 Delay reason #5: Deciding to abandon work, re-storyboard and re-draw most pages from scratch
In July 2014 I read the books Floating Horizon by Chris Guest, and The Great War by Joe Sacco. The books (which I describe in greater detail here) have stunning graphics, with immense amounts of detail drawn into the backgrounds.
By comparison, my partially complete Peak Oil comic suddenly looked half-baked and uninspiring.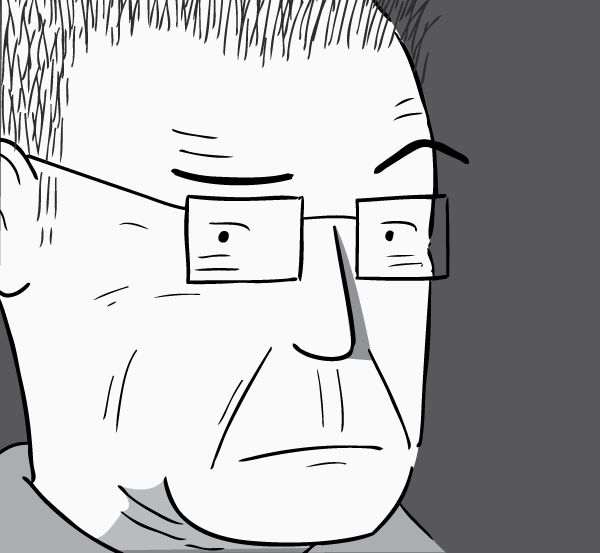 I wanted to make Peak Oil an impressive comic; an inspirational comic that encourages thought and action on fossil fuel consumption.
My July 2014 draft looked too dull to hold readers' attentions. It simply would not inspire many people to care about Peak Oil. I saw that it would be a missed opportunity to release this version of the comic.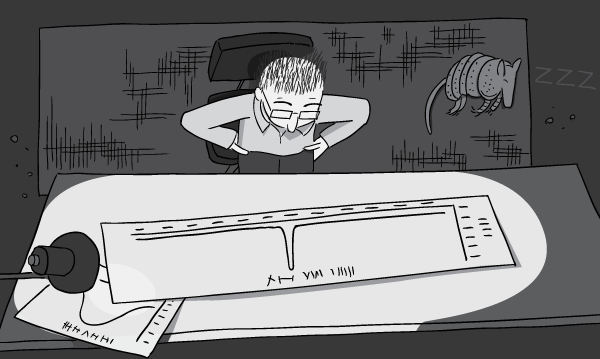 I decided to re-storyboard and re-draw Peak Oil so that it met my personal standards of quality.
My finished comic may not soar to Guest and Sacco's heights, but it is significantly better than the version I abandoned in July 2014.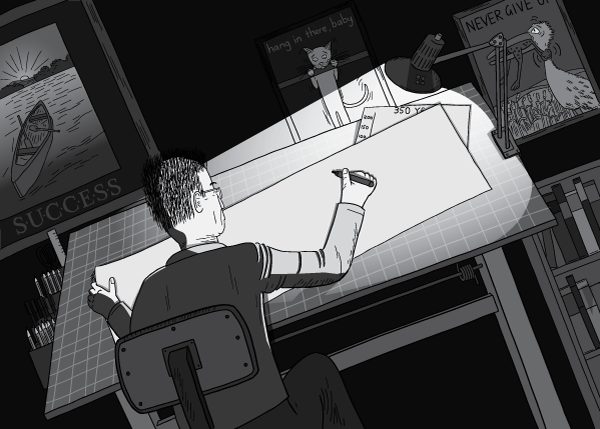 This is the 3rd blog post in a series of 7. In week 5, I show you interactive slideshows that allow you to see the evolution of my Peak Oil artwork. These slideshows includes graphics from the pages I decided to re-draw.
Delay reason #6: My commitment to releasing Peak Oil in multiple languages
As you may be aware, my website is available in multiple languages. Use the 'language flag' in the top-right corner of my website to switch languages. [
]
I aimed to maximise the number of languages that would be simultaneously available with the launch of the English comic. Hopefully the English 'buzz' will flow into the other languages through word-of-mouth.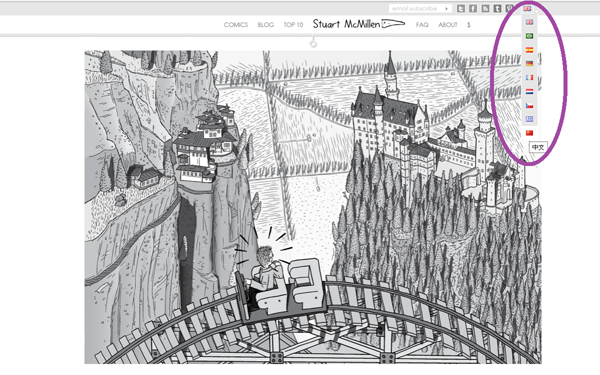 Above: the language translation options available on my website circa-May 2015.
Though most of the time spent creating my comics goes into the artwork and the English language versions, co-ordinating the other languages inevitably takes extra time.
Personally, I think it is time worth spending, as it allows the message of my comics to transcend language barriers.
Total creation time of Peak Oil
I ultimately spent over 1,500 hours creating Peak Oil itself, and associated elements (such as this blog post!).
In addition to this, I spent about 500 hours researching and pre-planning the three other comics that will join Peak Oil in my Thermoeconomics book. I did this so I could be sure I had solid stories to tell, before announcing the book.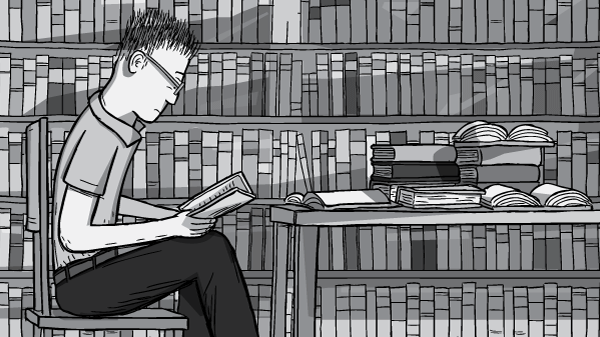 In other words, I spent roughly fifty 40-hour weeks getting to this point where I could launch Peak Oil online, with a firm plan for the remainder of Thermoeconomics.
Did you enjoy your Peak Oil reading experience? Are you excited by the prospect of Thermoeconomics? If you value my comics, please support me financially via the link below.
A call for patrons
As the below video describes, I am currently drawing three other comics in a similar vein to Peak Oil.
Can you 'pay it forward' toward your next stuartmcmillen.com comics-reading experience?
If so, please become a recurring monthly supporter via crowdfundstu.com. Thanks in advance!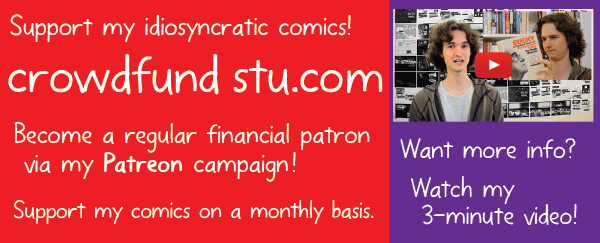 Other 'making of Peak Oil' articles
This is the third in a seven-part series covering various aspects of the comic's creation process. Next in the series is The making of Peak Oil #4: my step-by-step process.