Rainbow-crested cockatoo above Black Mountain Tower
Rainbow-crested cockatoo above Black Mountain Tower
October 2020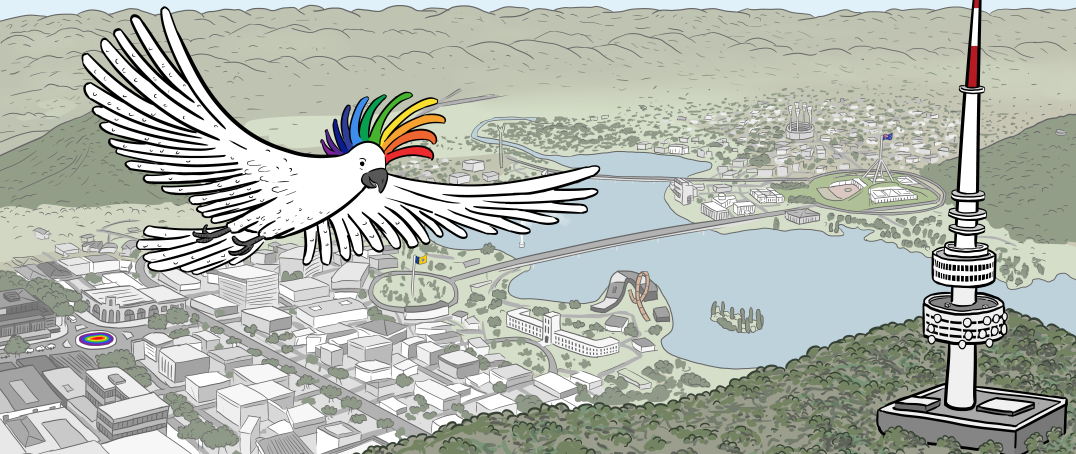 I drew a detailed illustration of a rainbow-crested cockatoo flying above a cartoon aerial view of the city of Canberra, Australia. Although the sulphur-crested cockatoo is an iconic Australian bird, I thought a rainbow-crested cockatoo would be an appropriate bird to include in a Canberra art scene.
Image detail: Rainbow-crested cockatoo near the Telstra Tower, Canberra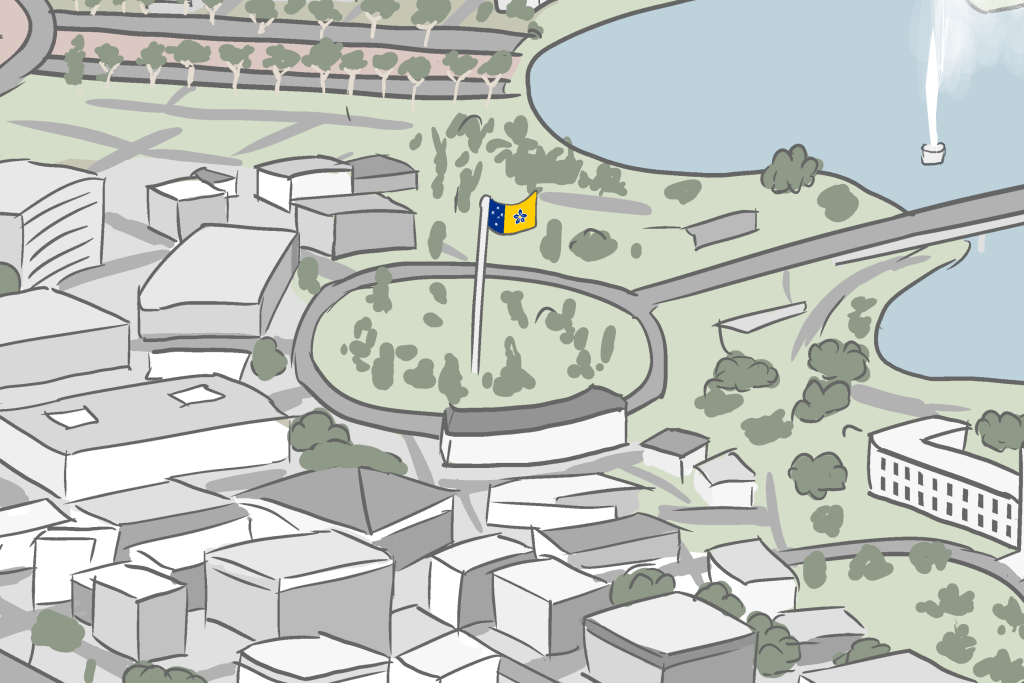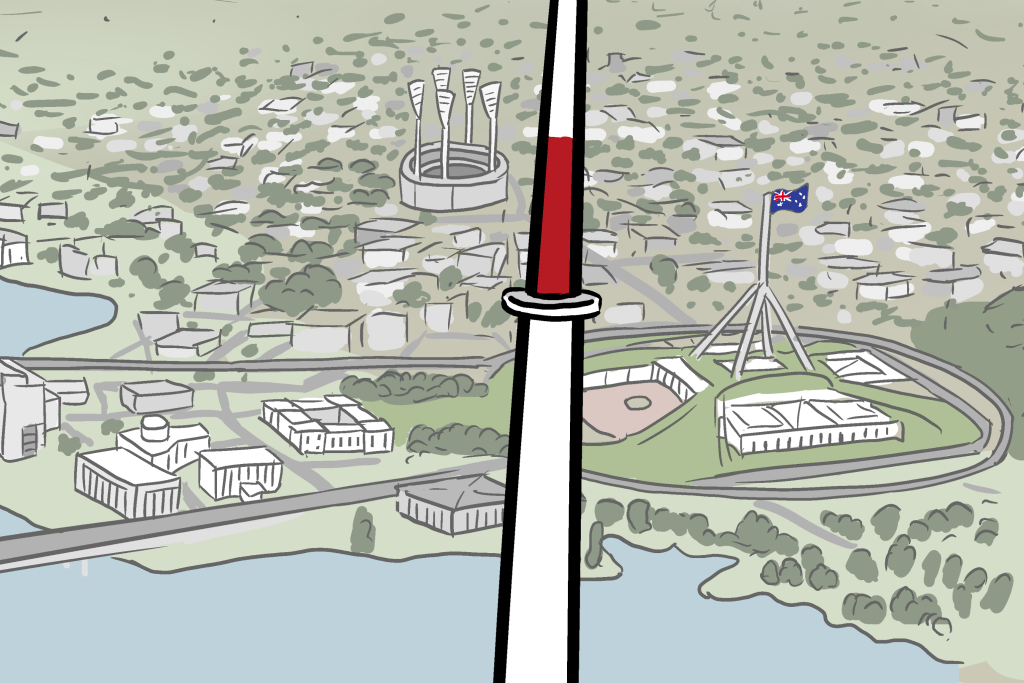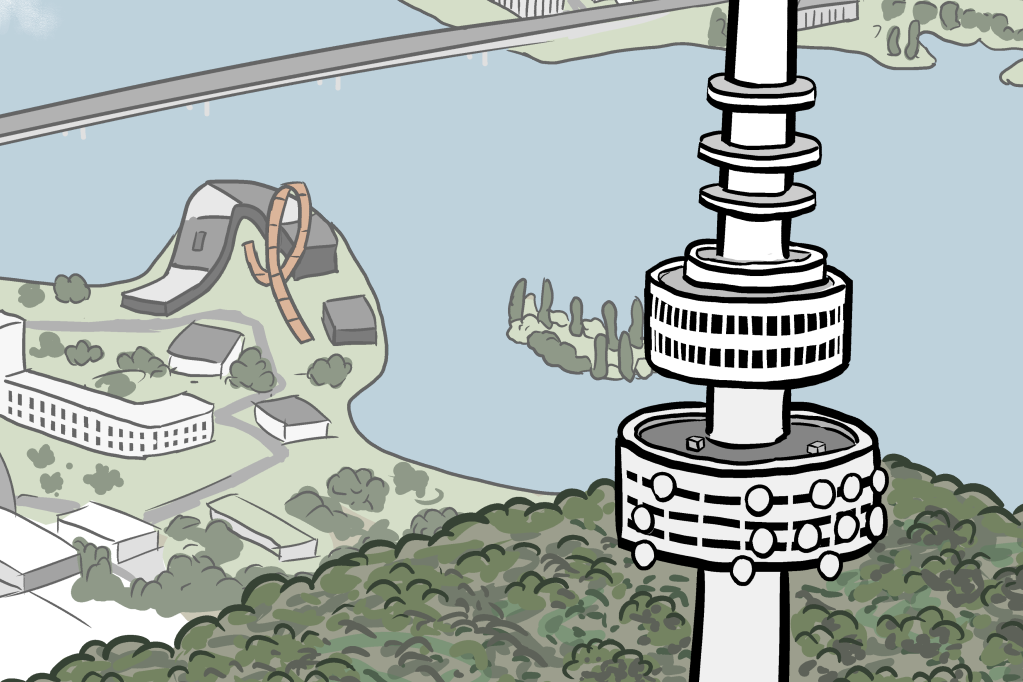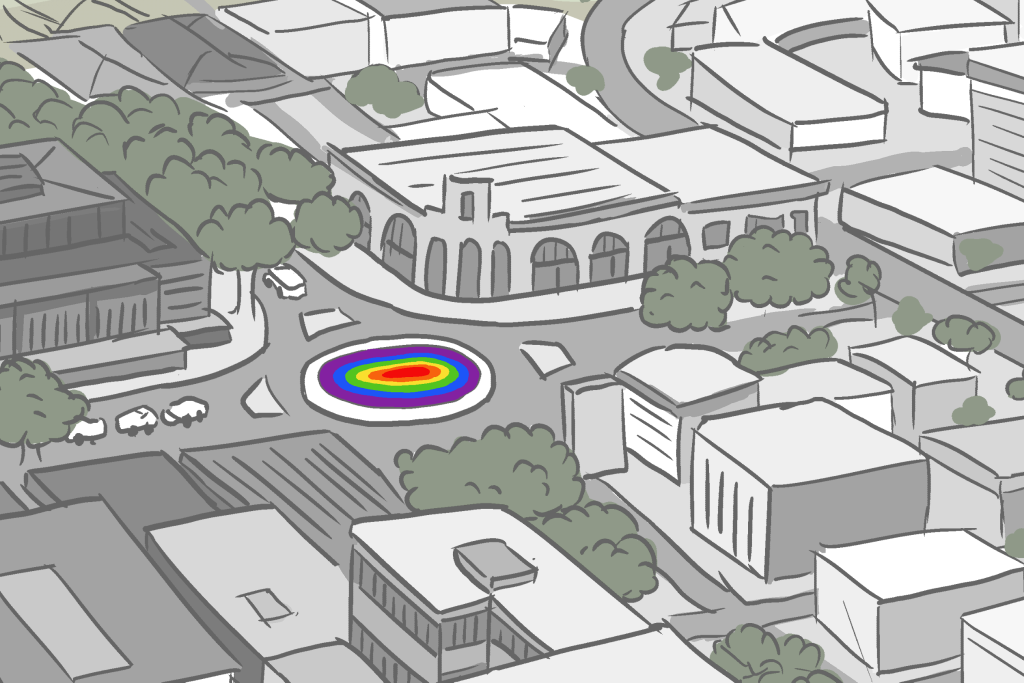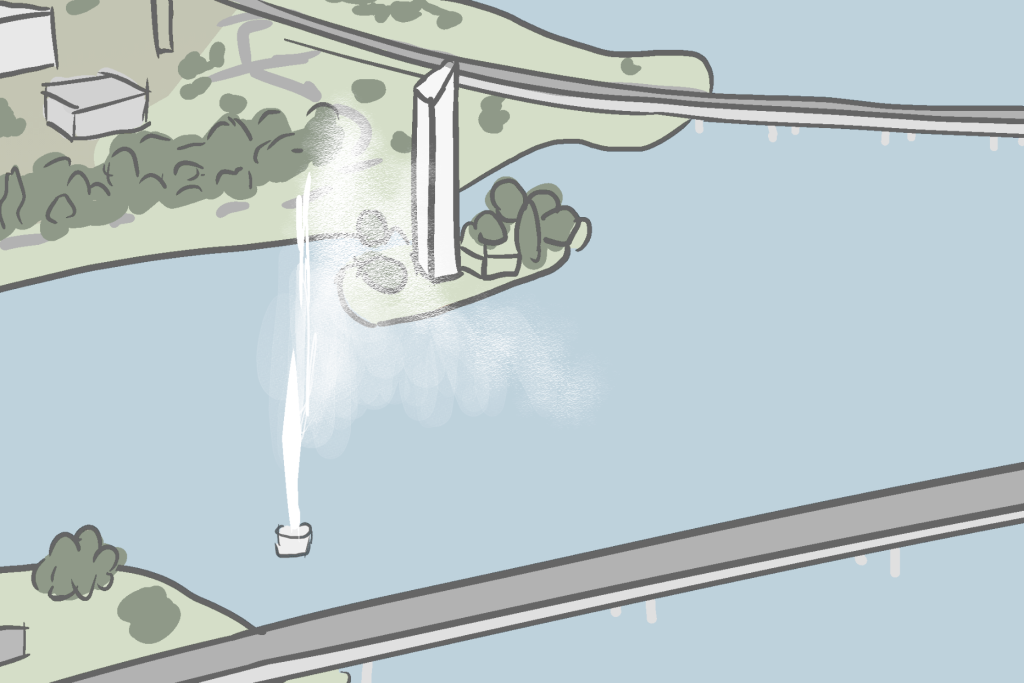 Background story behind the scene
The 'rainbow-crested cockatoo' imagery grew out of an artwork commission that I was offered in 2020. Canberra-based podcaster Nicole McCabe had received an ACT government grant to create a LGBTQI+ podcast titled A Community in Isolation. Nicole commissioned me to draw the artwork for her podcast. I have an entire other blog post dedicated to the experience of creating that commission.
As I explain in my other blog post: I created the 'rainbow-crested cockatoo above Canberra' imagery as a part of my podcast artwork… …and then deliberately hid huge sections of the scene behind the foreground elements! I did this knowing that I would later strip back the foreground elements and feature the bird scene on its own.
Rainbow-crested cockatoo: an original idea?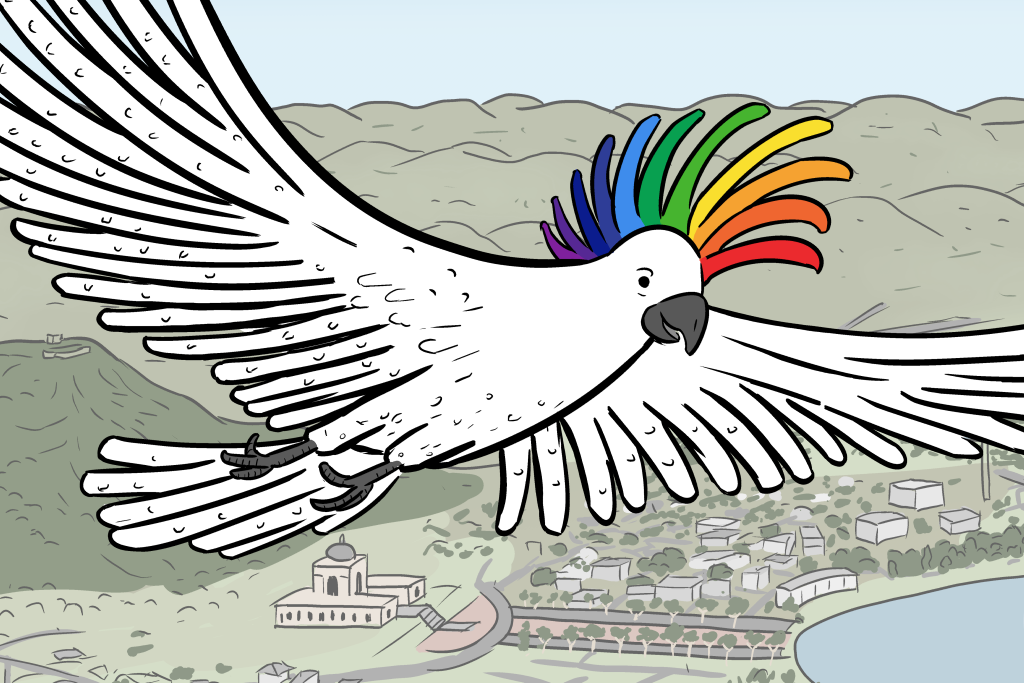 I drew the cockatoo quickly, as a late addition to the aerial scene of Canberra that I had already composed. After drawing the cockatoo into the scene, I backtracked to see whether anyone else had already drawn a 'rainbow-crested cockatoo'. The idea seemed too good to be unique. Surely this idea had already been done to death by other illustrators, right?
To my surprise, this did not seem to be an idea that anyone else had developed to any great extent. After researching the idea via image search engines, I could only find two obscure artists [one, two] who had ever published an illustration of a rainbow-crested cockatoo. I was amazed that such an idea wasn't being capitalised on!
Telstra Tower: a Canberra icon
The visual counterbalance to the cockatoo in the top-left of the scene is Telstra Tower in the bottom-right of the scene. Telstra Tower, also known as Black Mountain Tower, is one of the most distinctive landmarks of Canberra.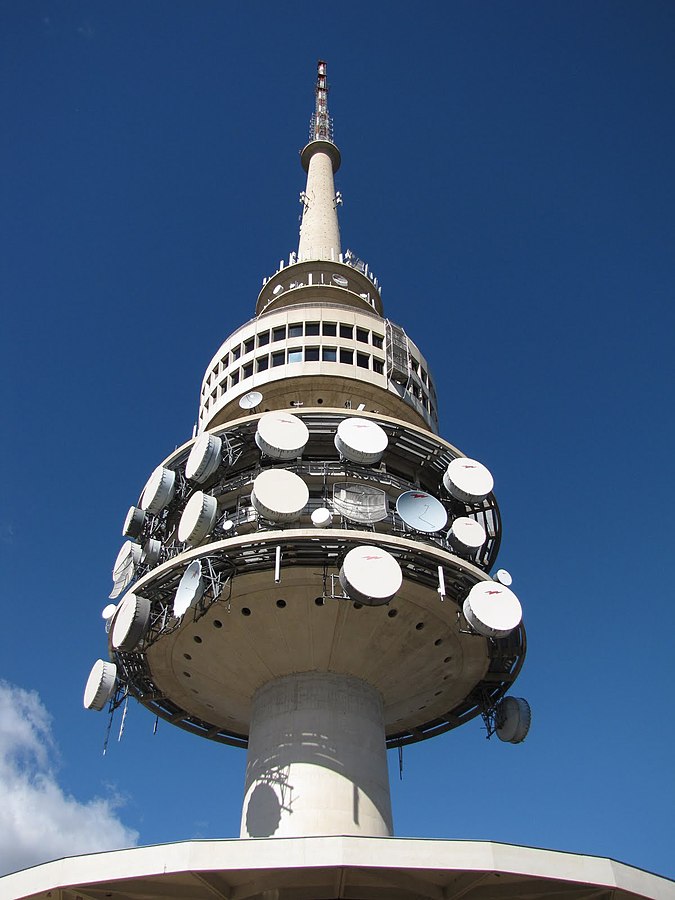 Image: Telstra Tower in Canberra by Chondryma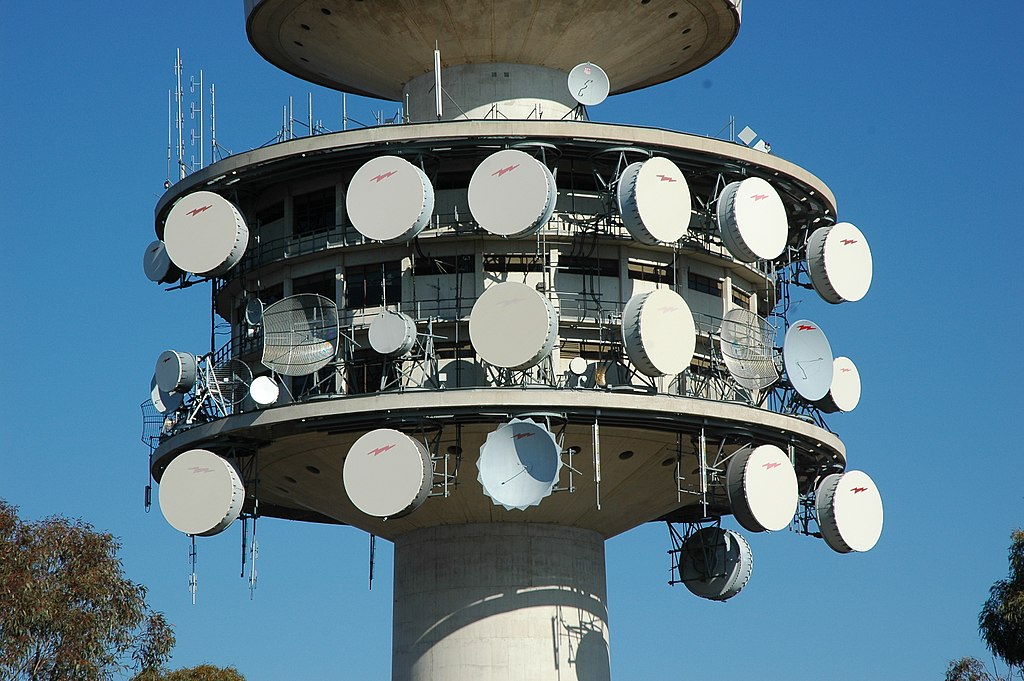 Image: Black Mountain Telecom Tower by Pascal Vuylsteker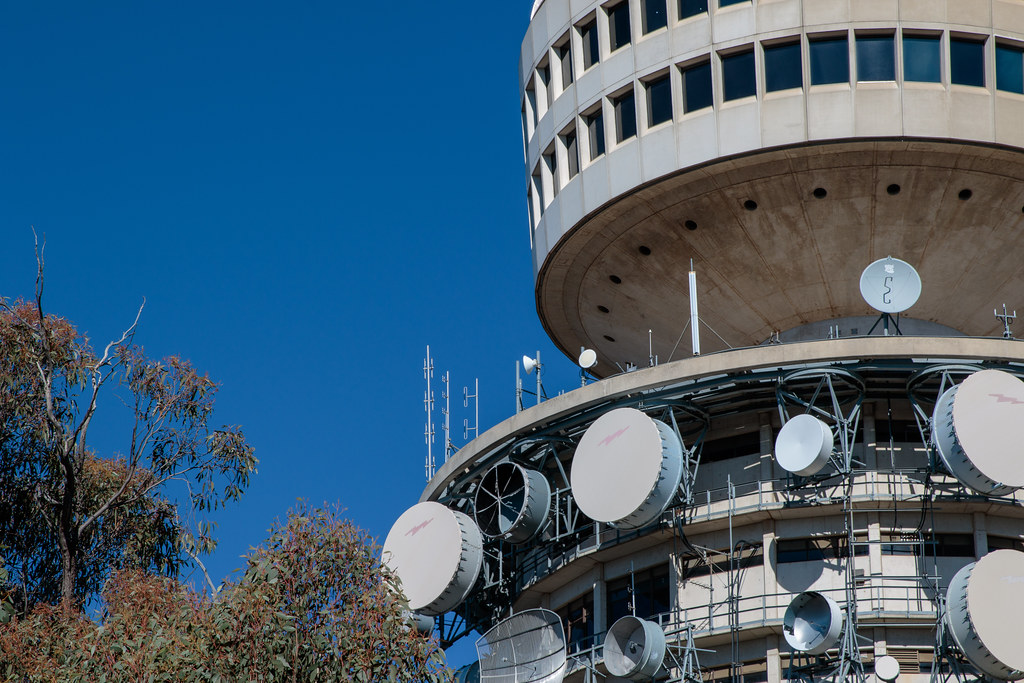 Image: Telstra Tower by Jordan Hatch
Once per day, all of Canberra's public servants are required to stand in a position with a clear line of sight of Telstra Tower. Like an all-seeing eye, the tower scans the minds of the public servants and forgives them for any bureaucratic sins that they have made in the last 24 hours. I am told that this is a cleansing experience.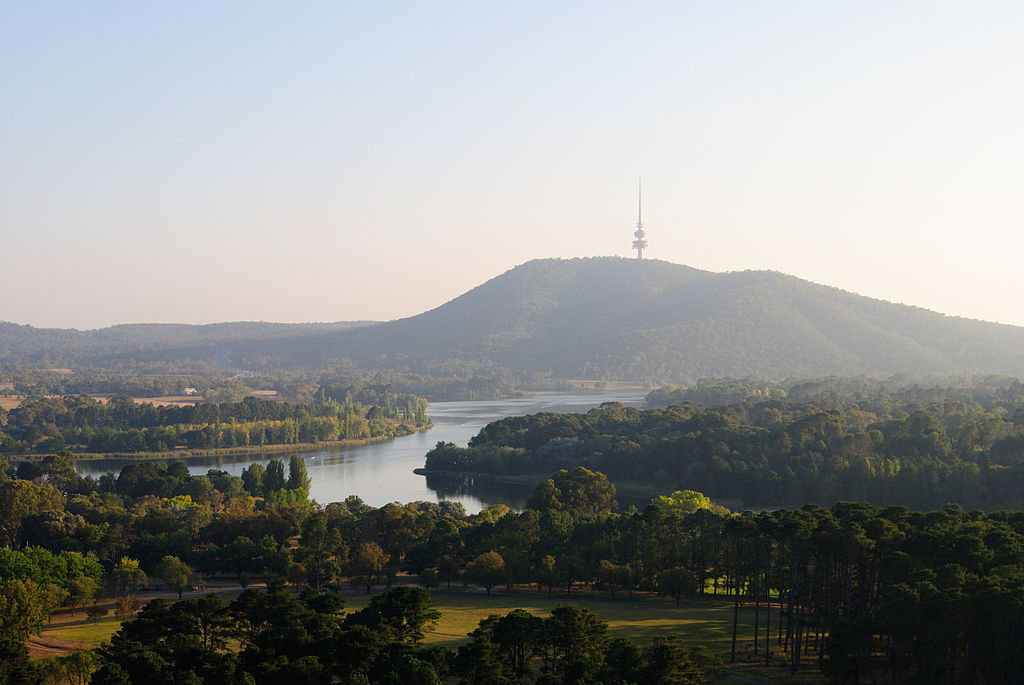 Image: Lake Burley Griffin and Black Mountain Tower by Neuroxic
Braddon's rainbow roundabout: a Canberra icon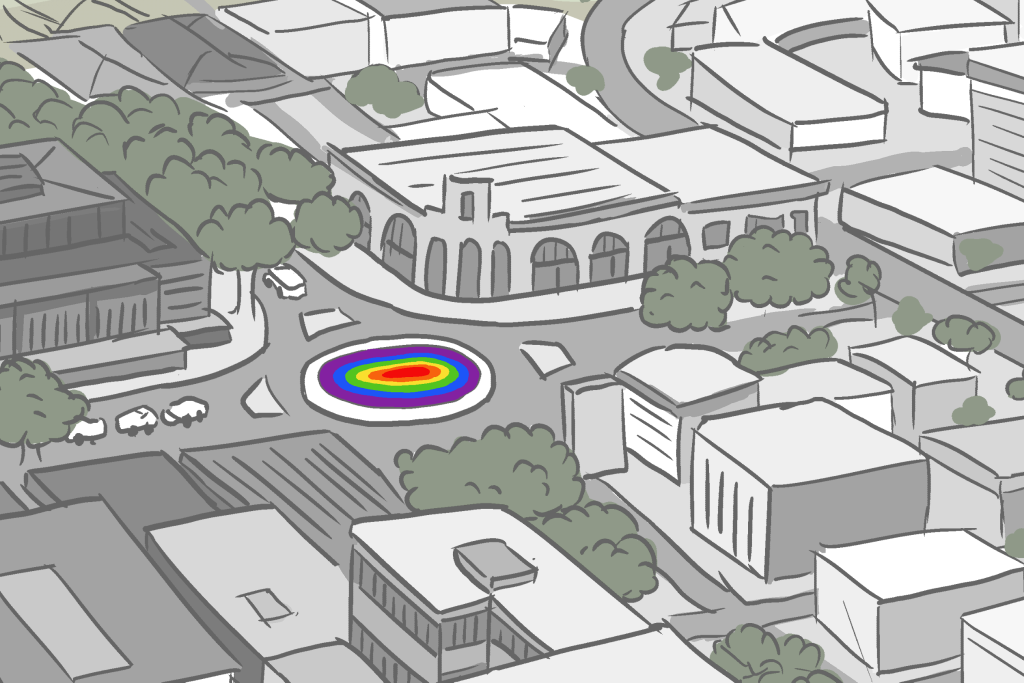 The most commented-upon feature of the scene is the rainbow roundabout in the bottom-left corner. The is a representation of the real-life rainbow roundabout of Braddon.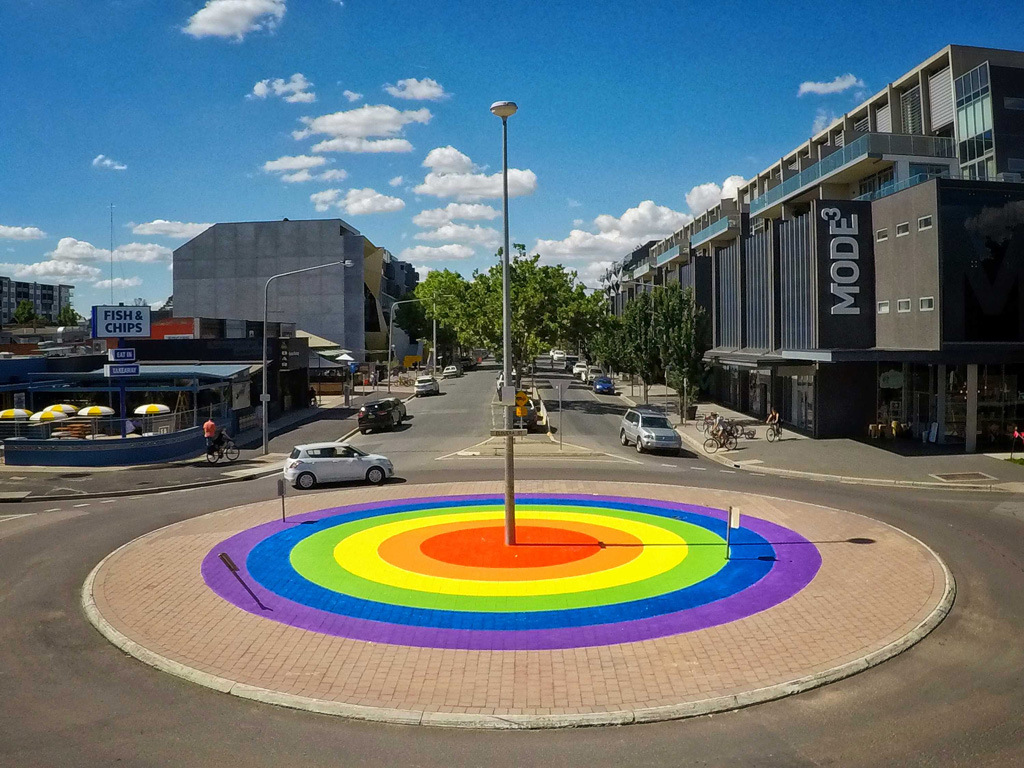 Image: Canberra's rainbow roundabout by Greg Nelson, ABC News
The roundabout in Braddon was painted rainbow in the week after the results of the 2017 same-sex marriage survey were revealed. This recognised that the Australian Capital Territory (ACT) recorded the highest 'Yes' vote of any Australian state or territory – 74% voted in favour of same-sex marriage. Choosing this as a landmark is also a nod to Canberra's reputation as the "roundabout capital of Australia".


Image: Rainbow roundabout in Braddon January 2018 by Nick-D
Drawing a city: real Canberra versus cartoon Canberra
Drawing an aerial cartoony version of Canberra was an interesting creative challenge. It was an exercise in exaggeration and reduction.
Compare my cartoony view of Canberra with a realistic view of Canberra over the shoulder of Black Mountain, and you'll see how flat and spread-out the real cityscape is.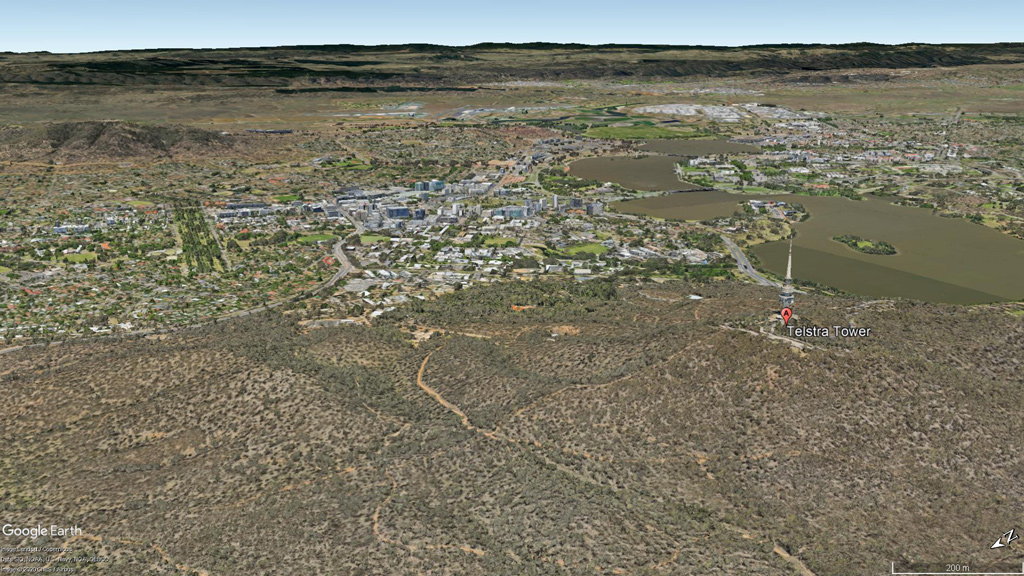 In this view, you can see that landmarks such as Parliament House, the Australian War Memorial, and the National Carillon are barely visible, whereas the rainbow roundabout would be smaller than a single pixel. Here is my drawing again: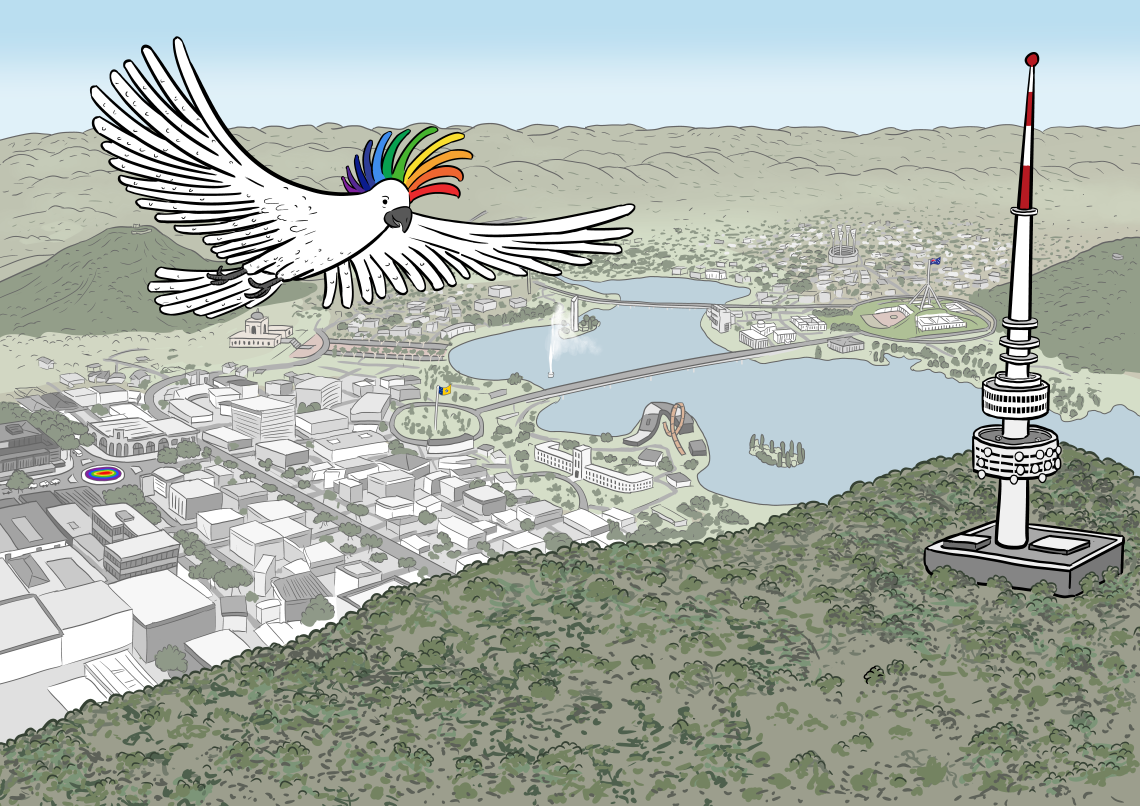 It is fun to think about how readily our minds will willingly accept such grossly distorted scenes as 'acceptable'!
Postcards, greeting cards, art prints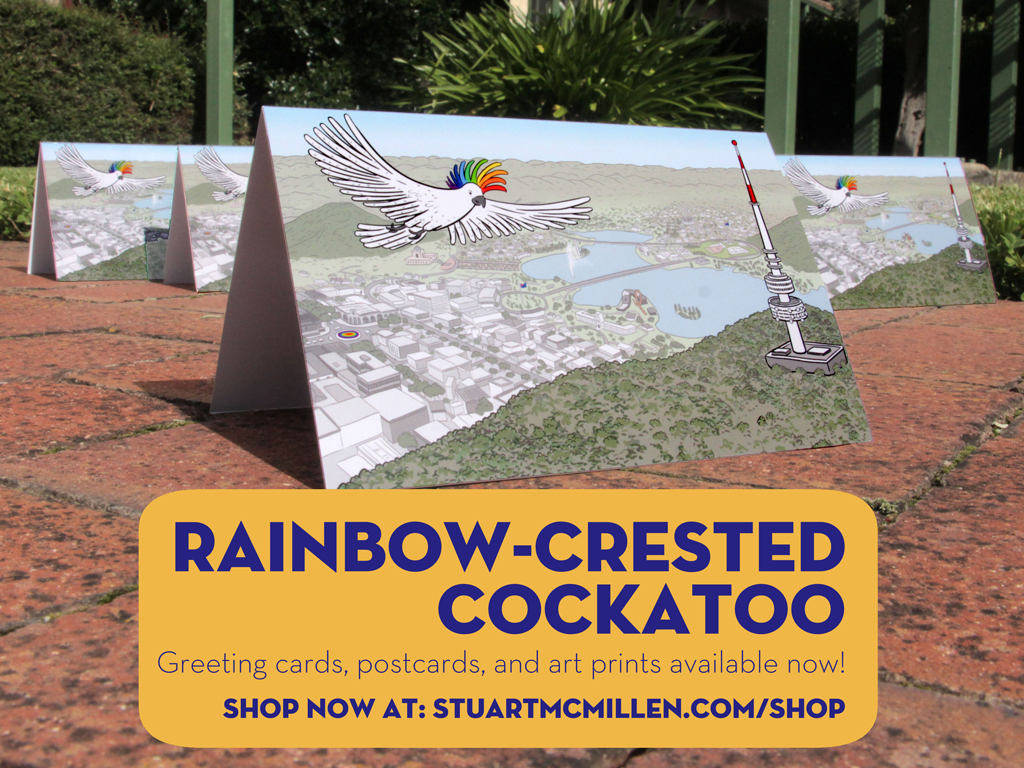 Support my work by buying this artwork as a postcard, greeting card or signed and numbered art print from my online store.
Visit the Rainbow-crested cockatoo product range category, or use the following links for these items on my web store: