A Community in Isolation podcast artwork
A Community in Isolation podcast artwork
October 2020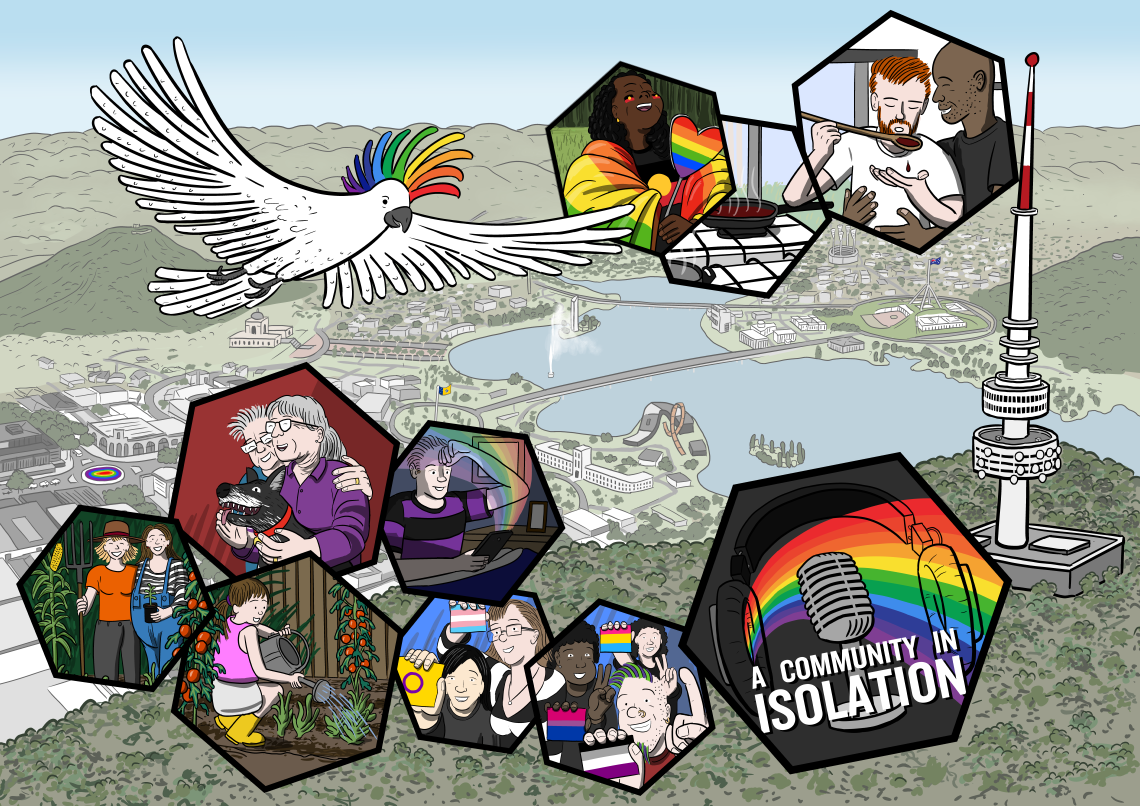 Commissioned artwork for A Community in Isolation podcast
In July 2020, my friend Nicole McCabe approached me about creating artwork for a new podcast that she was producing. A tax accountant by day, Nicole had already created a series of podcasts about money and finance titled Let's Get Down to Business and Up Yourself, which she began publishing in February 2020.
Buoyed by this experience, Nicole received funding to create a podcast titled A Community in Isolation. The podcast draws parallels between the 'lockdown' situation of the 2020 COVID-19 pandemic, and the isolation that members of the LGBTQI+ community experienced during other periods of history. As this podcast was funded by a Capital of Equality grant by the ACT Office for LGBTIQ+ Affairs, the podcast would dive into the story of Canberra's queer community.
The artwork brief
Nicole was a fan of my art style from reading my comics, and wanted me to create some illustrations that she could use on the podcast's website, and for social media posts promoting the podcast. She sent me mock-up illustrations to give me a sense of where her head was at:
These mock-ups featured the hugely iconic Canberra bus shelters and Black Mountain Tower in the artwork: important signifiers that these illustrations were connected to a podcast about the Canberra community.
Nicole also wrote to me about her grand visions of a detailed artwork scene, showing a cross-sectional view inside an apartment complex. This scene would allow us to see inside the apartment, and the lives of five diverse families living within that building.
The concept evolves
I sent Nicole a .zip file containing a large collection of illustrations that I had drawn earlier in my career, asking her to look through and identify any pieces with a style or 'feel' to them that matched what she was imagining.
The one that jumped out to Nicole was a frame from my Energy Slaves comic. The scene shows a high-angle view of a 'human scale' European city, with hexagonal tiles showing insights into the lives of people who live in the city. See this image below: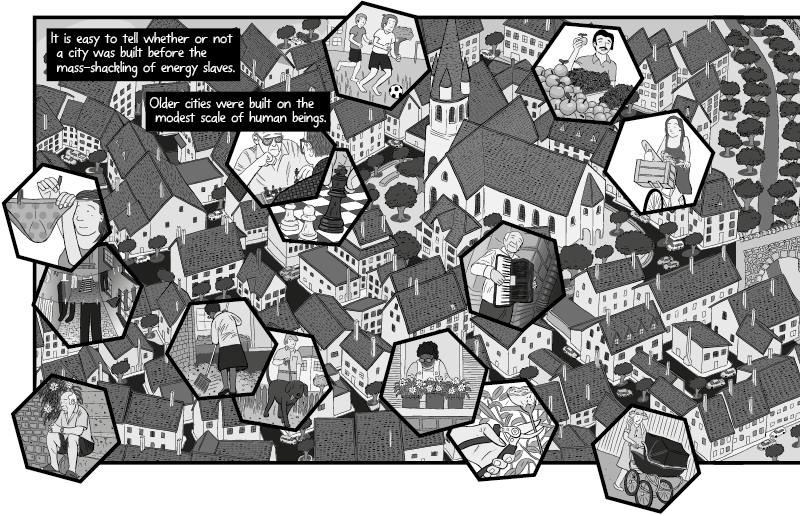 Nicole and I thought that this could be a single strong idea that replaced the other multiple ideas that we were considering. We could draw an iconic 'Canberra scene', and then overlay the illustration with panels showing glimpses into the lives of Canberra's queer community.
With this concept decided, I was about ready to begin illustrating the artwork. But there was one thing that I wanted to do first…
A podcast logo
Nicole had already created a logo for the podcast, which I've included below: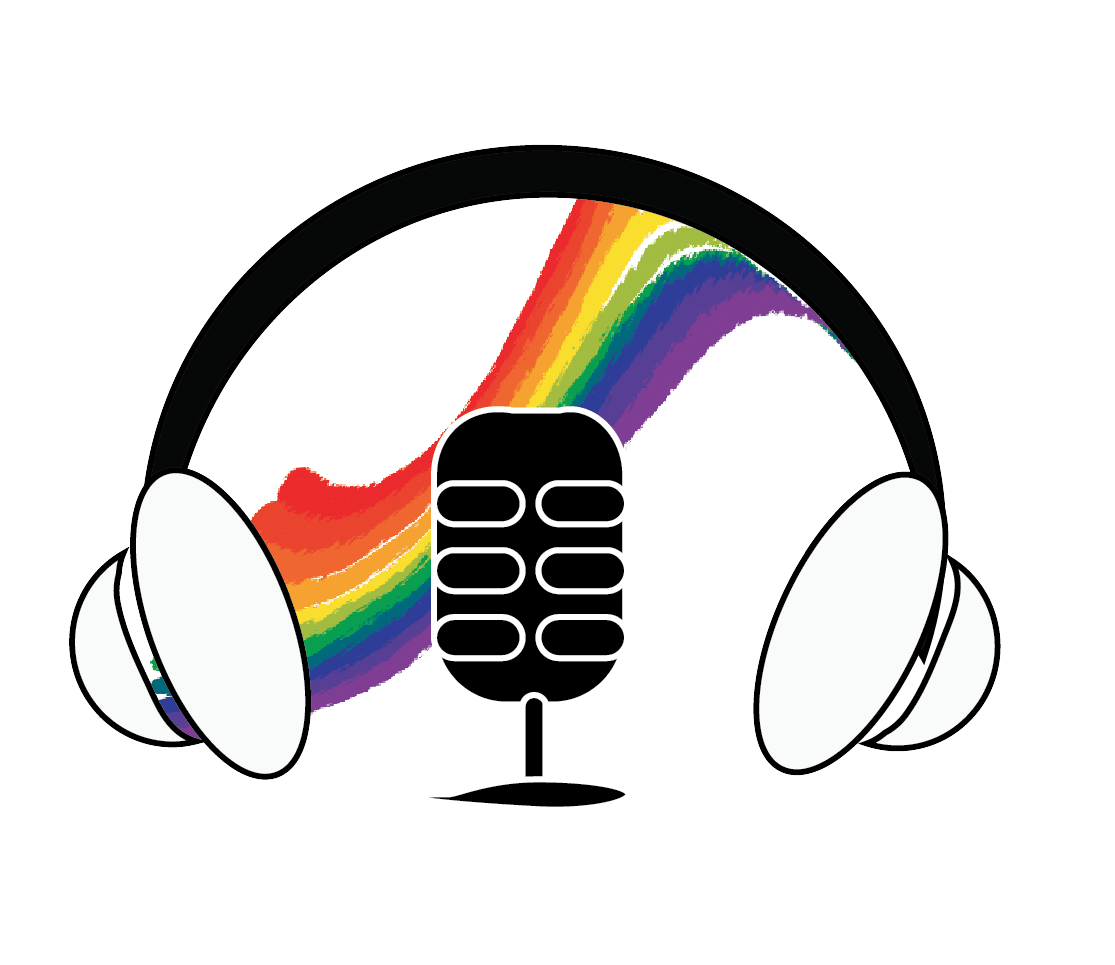 Even though Nicole was only commissioning me to draw the accompanying artwork for her podcast, I felt the urge to redraw a new version of her logo that would match the style of my other artwork.
Below is the alternative logo that I created, including a version with the title text baked-into the image.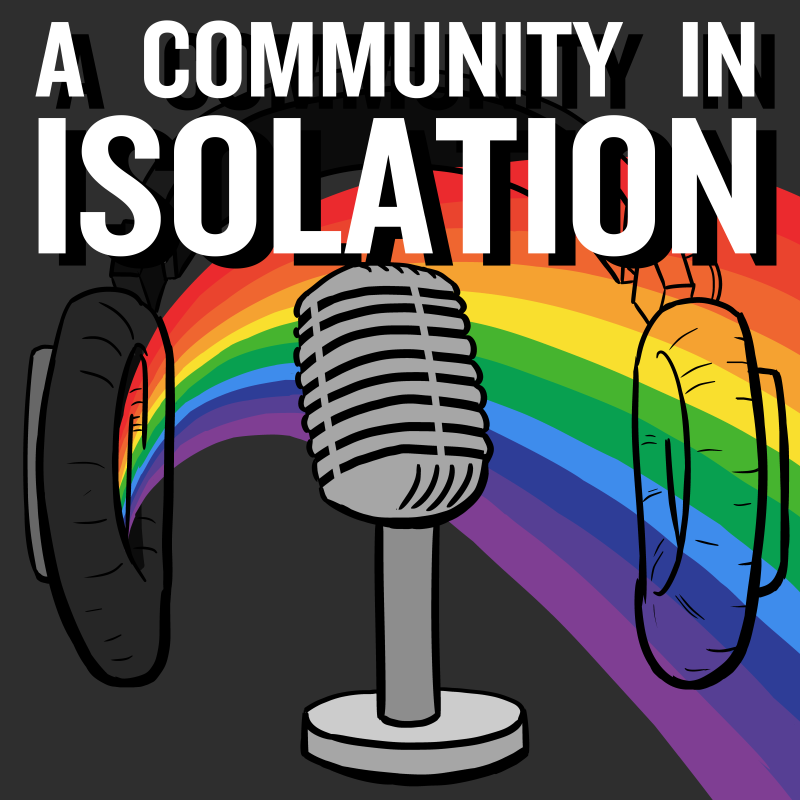 It passed the podcast logo legibility test of "The image should still look good when sized down to 50×50 pixels in size."
The 50×50 pixel images:


I supplied Nicole with the master file so that she could go back and change the background colour, in case she wanted some variety from episode to episode. (Two examples with different background colours are below).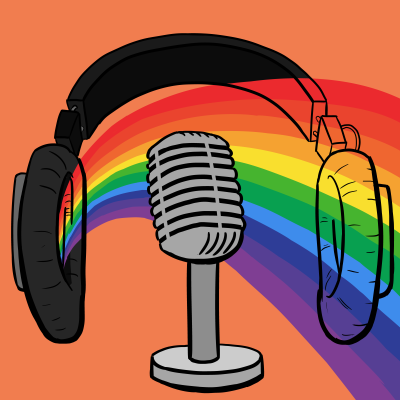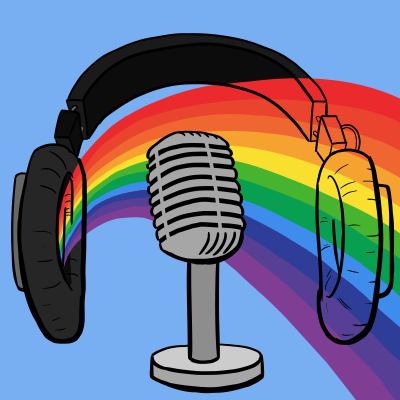 The illustration evolves
I mucked around in Google Earth trying to find the best view of Canberra that incorporated as many iconic landmarks as possible (Black Mountain Tower, Lake Burley Griffin, Parliament House, ANU, the Australian War Memorial…)
For a bit of fun, I also decided to make the rainbow roundabout of Braddon an exaggerated 'landmark' of Canberra that I would feature. (The roundabout in Braddon had been painted rainbow in the week after the results of the 2017 same-sex marriage survey were revealed, in recognition of the ACT having recorded the highest 'Yes' vote of any Australian state or territory – with 74% voting in favour of same-sex marriage).
Nicole was keen on the hexagon panel shapes for the foreground glimpses into the lives of the ACT queer community, so I strategically positioned them on my draft artwork in a way that would minimally obscure the background scene.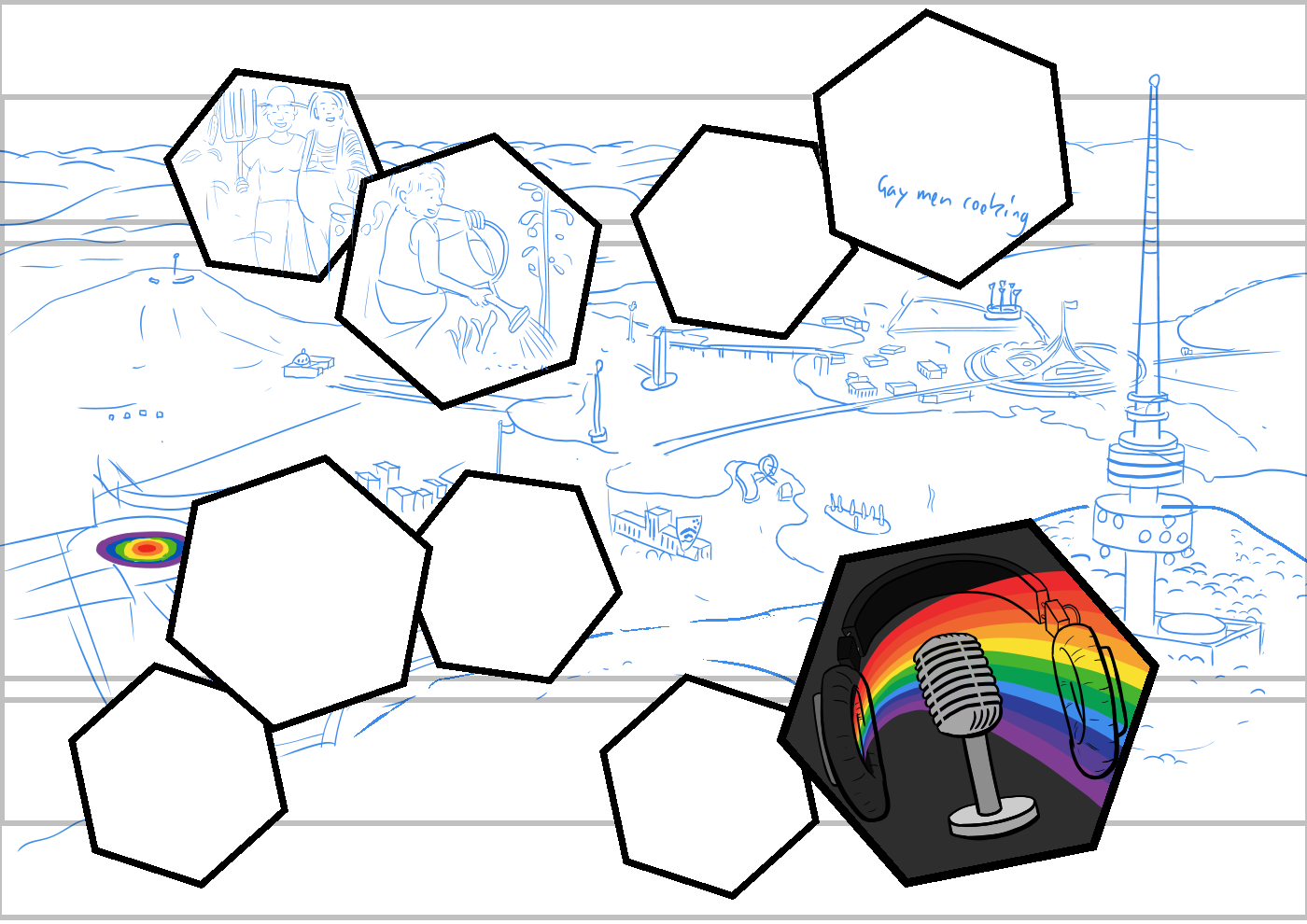 I then got to work drawing the people into the hex panels: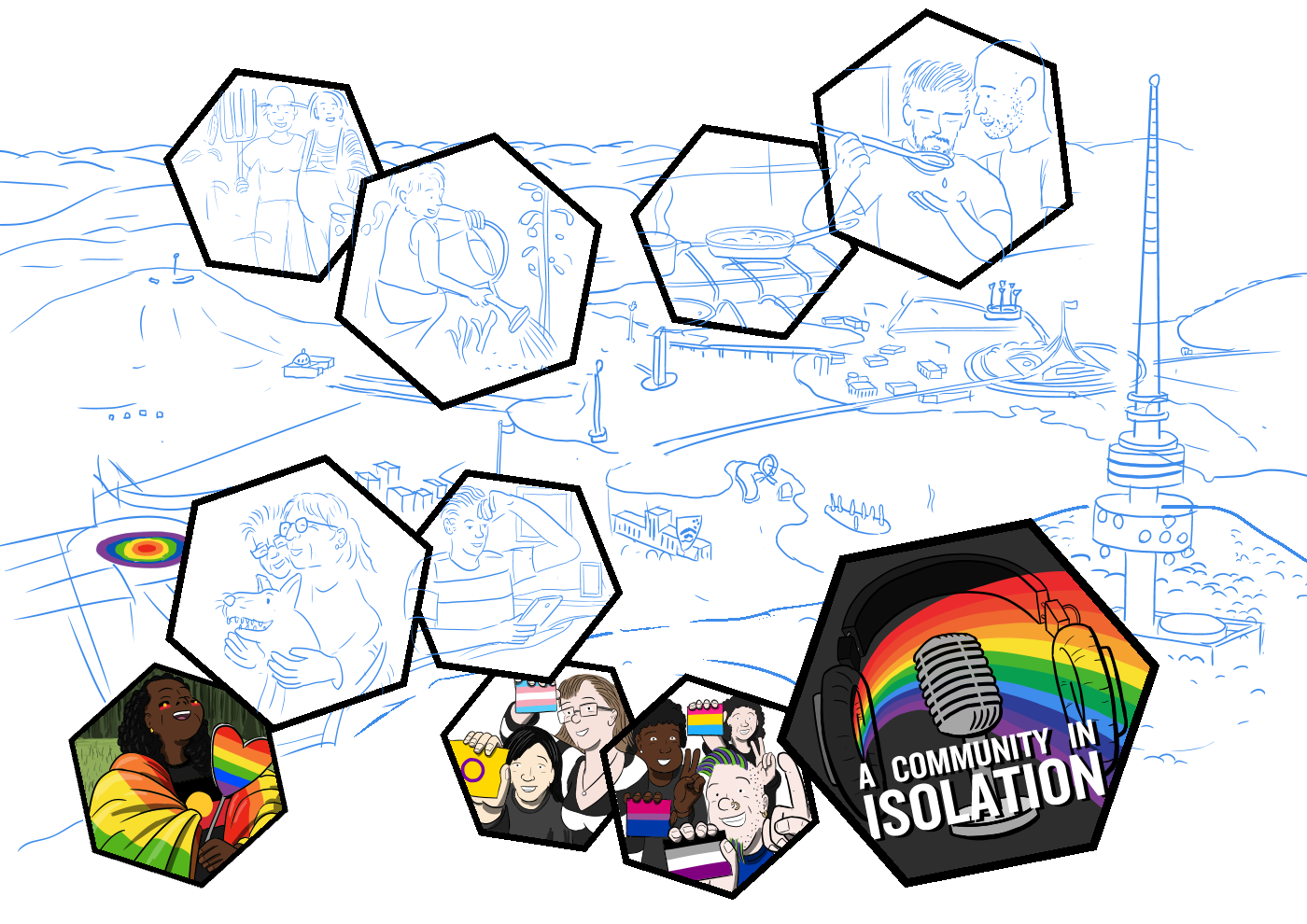 The rainbow-crested cockatoo
Midway through the process, I felt like balancing out the visual impact of the bottom-right's Black Mountain Tower with a bird in flight in the top-left of the scene.
I came up with the idea of a 'rainbow-crested cockatoo' flying in the air above Canberra: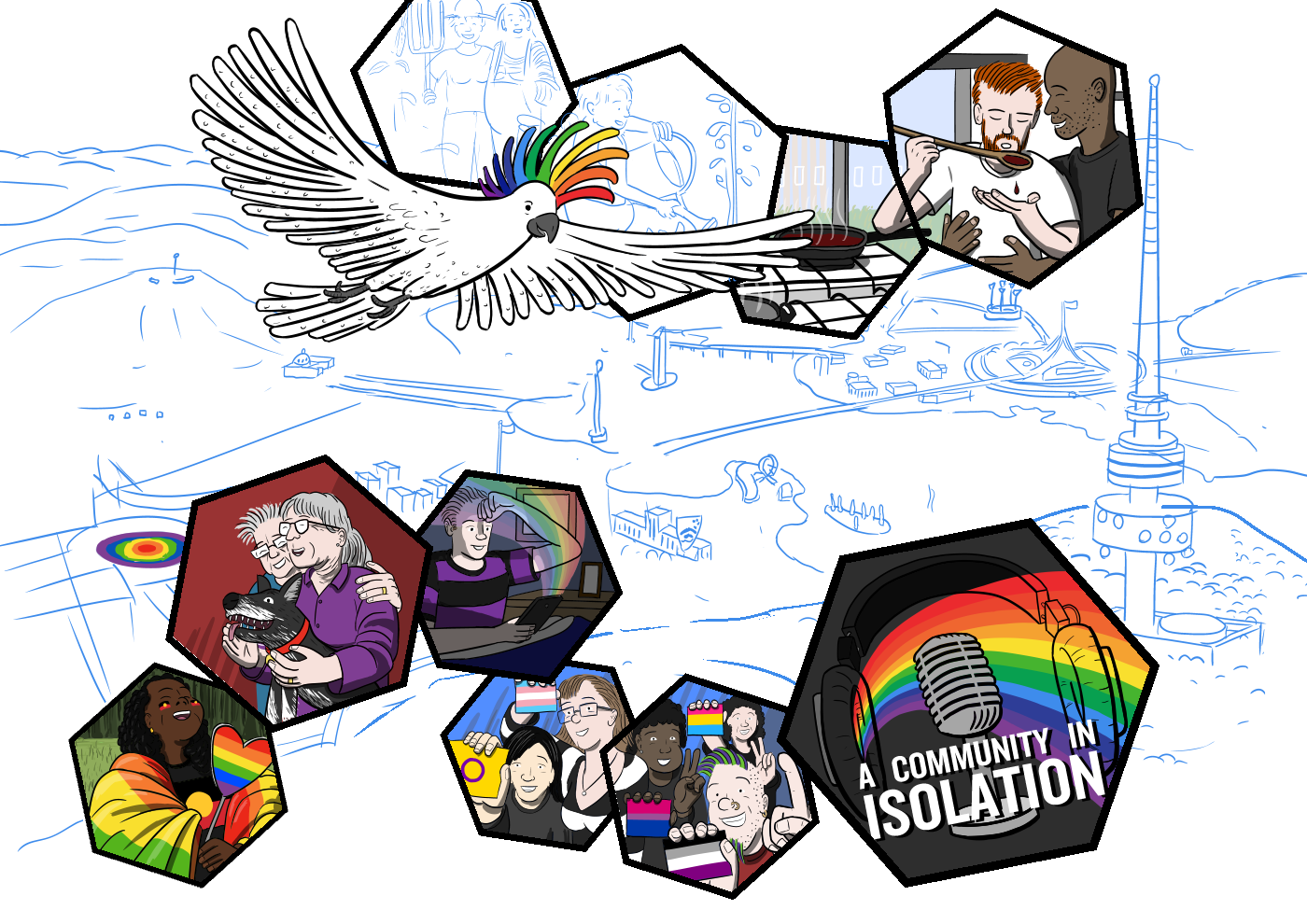 The appearance of the cockatoo in the sky made me decide to reposition some of the other panels so that they were not blocking the colourful crest. I wrote another blog post with more thoughts on the rainbow-crested cockatoo aspect of the illustration.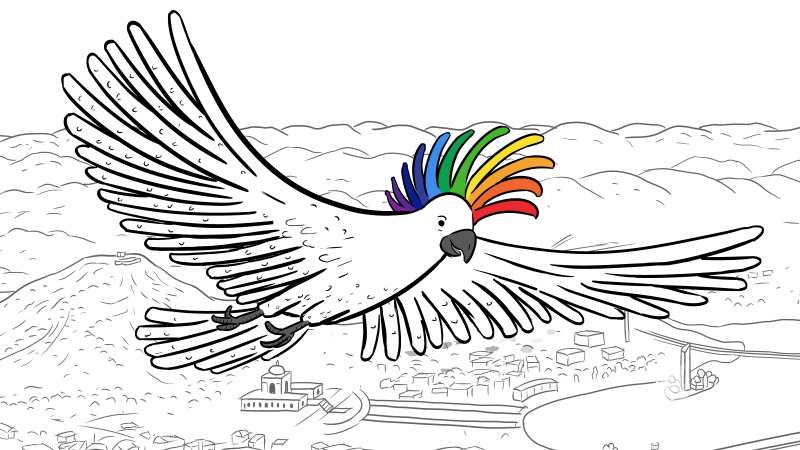 The illustrations of people inside the panels
As well as drawing the illustrations so that they would fit nicely into the hexagonal panels, I drew full versions of the topmost panels, so that they could be isolated and used as stand-alone images to support the podcast.
Here are the full-sized illustrations: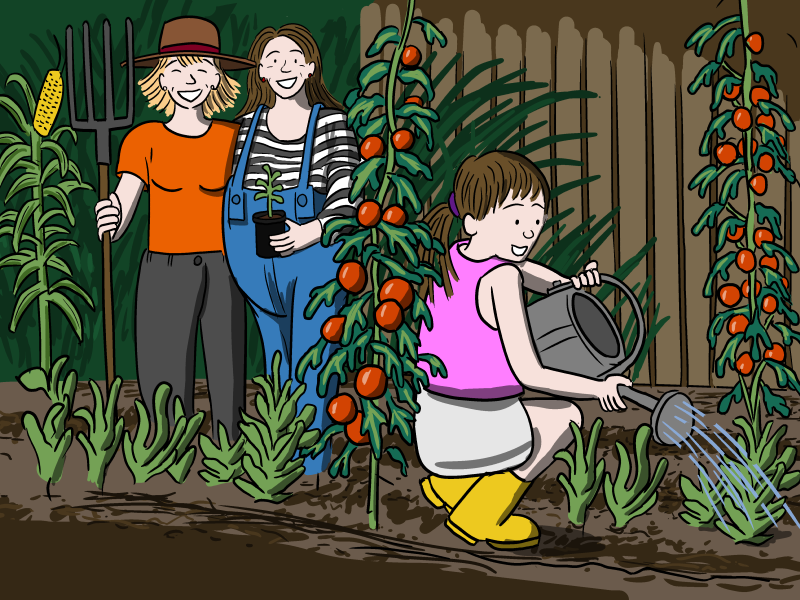 Above: two female parents and their child doing some gardening in a backyard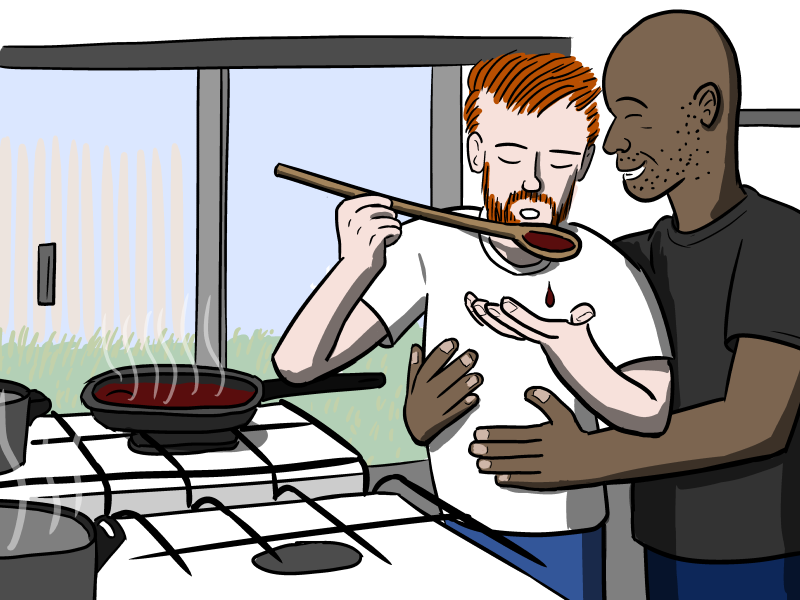 Above: a younger couple, two men, cooking together in a kitchen and embracing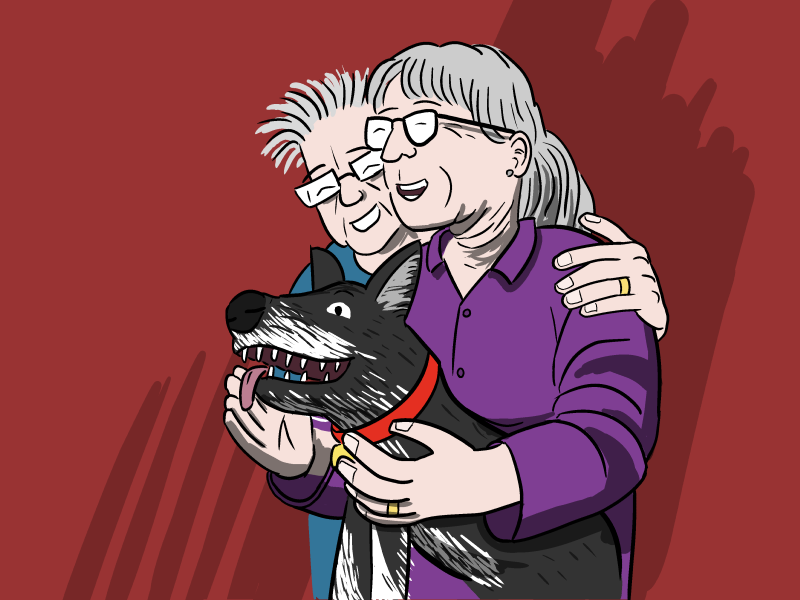 Above: an older couple, two women, laughing and hugging, with their pet dog on their lap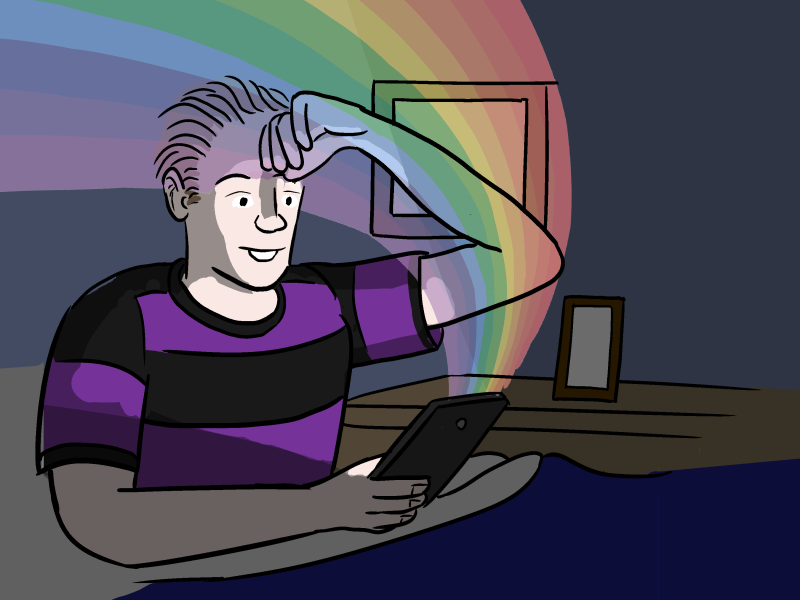 Above: a young male getting social connection through a smartphone in a dark room, with the rainbow-coloured glow of the screen's light on his face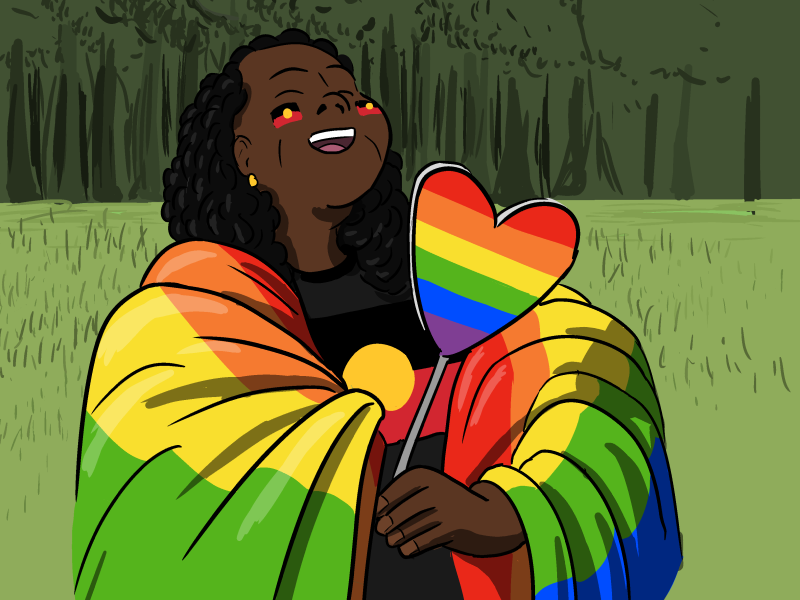 Above: a younger aboriginal woman laughing, draped in a rainbow flag at a 'pride' event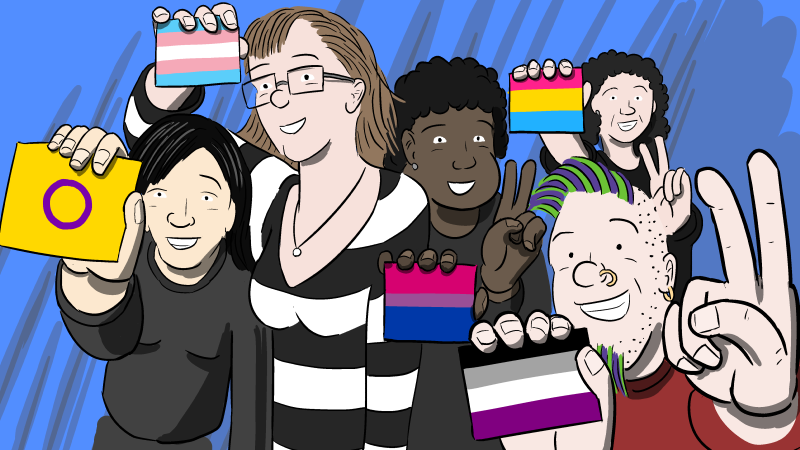 Above: a group of people brandishing placards representing different identities identities. From left to right we see the intersex flag, the transgender pride flag, the bisexual pride flag, the asexual pride flag, and the pansexual pride flag.
Drawing a city: real Canberra versus cartoon Canberra
Drawing an aerial cartoony version of Canberra was an interesting creative challenge. It was an exercise in exaggeration and reduction.
Compare my cartoony view of Canberra with a realistic view of Canberra over the shoulder of Black Mountain, and you'll see how flat and spread-out the real cityscape is.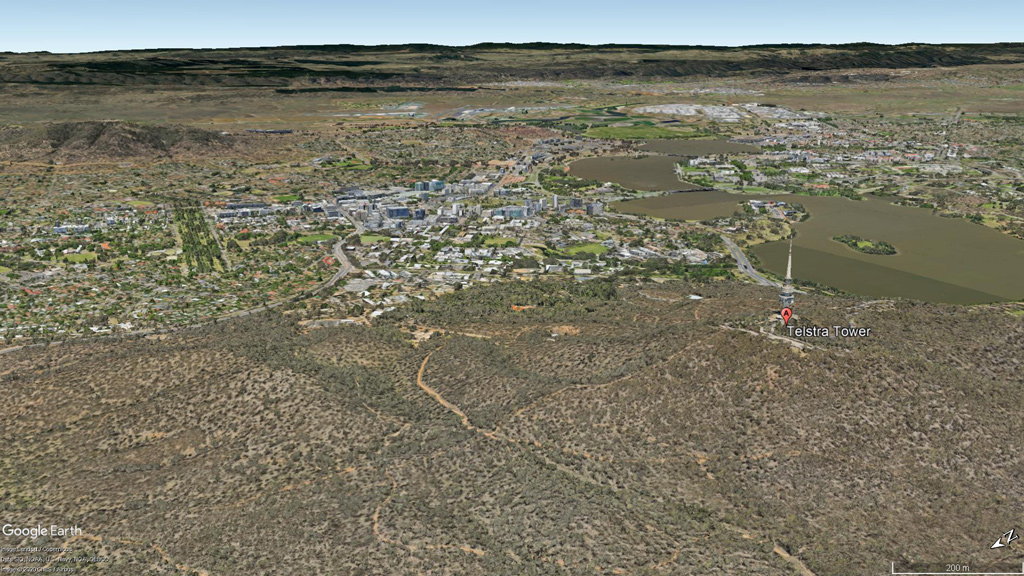 In this view, you can see that landmarks such as Parliament House, the Australian War Memorial, and the National Carillon are barely visible, whereas the rainbow roundabout would be smaller than a single pixel.
By comparison, my drawing makes these elements many times larger than they really are. Out of necessity, I reduced sprawling areas like the Australian National University campus down to a single building.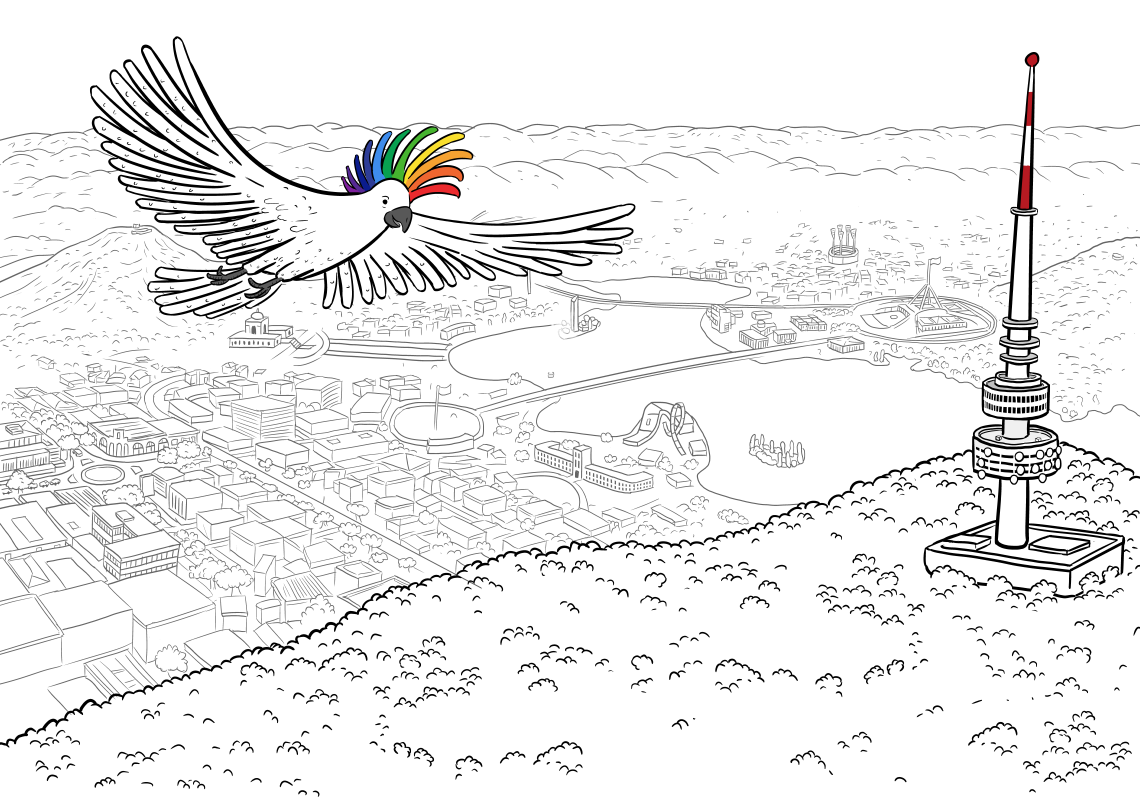 I sensed that the illustration would work as its own stand-alone scene, so I drew the parts of the artwork that would be hidden behind the hex panels also.
Final scene artworks
Conclusion: a fun project
I ended up putting much more time and effort into the project than either Nicole or I expected. But it turned into a fun project that re-activated my illustration skills after a period of time away from the artboard.
Nicole's offer came to me at a time when I hadn't actually drawn any artwork for 4 months, as I had been busy researching and writing my comics about universal basic income. I knew that I would soon enter the early stages of drawing Basic Income Comics, and so used the A Community in Isolation project as a way to remember how to craft memorable illustrations that would resonate with readers.
Go over and listen to A Community in Isolation via their website, or via Spotify, Buzzsprout or Apple Podcasts.
Testimonial from Nicole McCabe
Working with Stuart to produce a cohesive brand image for an eclectic podcast project was both a joy and a supremely educational experience.

Stu not only delivered the work on time and above expectations but took the opportunity to expertly craft my ideas into a beautiful and versatile image; all while providing crucial feedback on the design composition process for multi social media platform deployment.

I've been a long-standing fan of Stu's work; being able to work with him on a project I was passionate about was an experience worth more than anything I could have paid for.

I cannot recommend his skills, his professionalism, or his passion for client work highly enough.

Nicole McCabe
27 August 2020
Rainbow-crested cockatoo art prints for sale
As I mentioned on my blog post, you can buy prints of the rainbow-crested cockatoo illustration from my online store. These are archival-quality prints on fine art paper, that look fun and vibrant. Visit the product page on my online store.