Best of 2014
Best of 2014
December 2014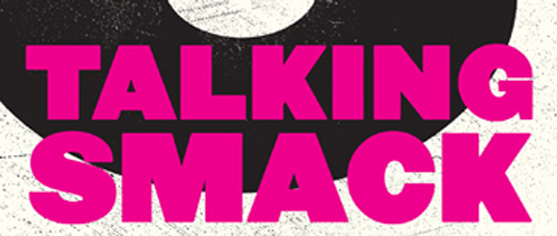 This has been a real 'periscope down' year for me. You may have noticed that I have not published a new comic since Rat Park in May 2013…
Rest assured that the reason for my hibernation will soon be revealed!
But now, it time to list some of my favourite "2014 things" that I enjoyed this year:
Best album of 2014: River Mirrors by Infinity Broke
I am a big fan of Jamie Hutchings' previous band Bluebottle Kiss, which is wonderfully chronicled by this feature article and this road tour documentary. So, after a half-decade of solo recordings, I was glad to learn that Jamie Hutchings had resumed his 'electric mode'.
It's all there in River Mirrors, folks. The famous BBK wash of dissonant guitars is back! But there's something new. A krautrock influence shines through on certain songs, especially the 10 minute "Monsoon" [video] which is propelled by the motorik drums of skinmen Jared Harrison and Scott Hutchings, as well as the pulse of bassist Reuben Wills.
The result is my favourite album of 2014. Newcomers should check out the munted guitars of album closer "Termites" [audio] as well as the opening song "Gallows Queue" [video].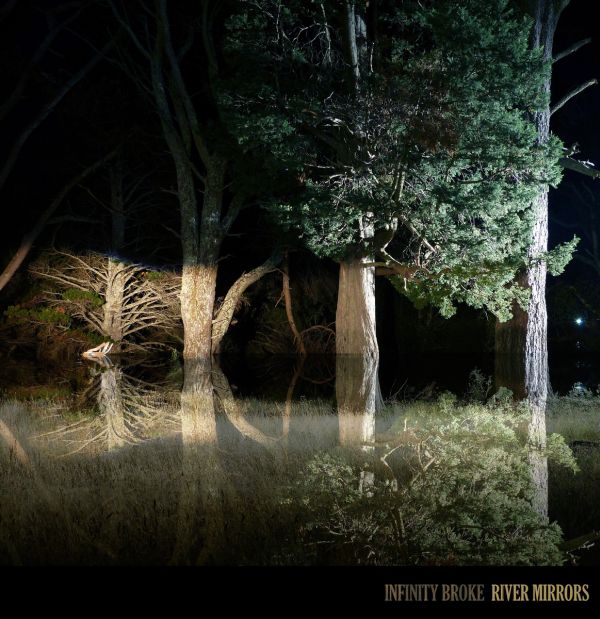 Honourable mention: Minutes of Sleep by Francis Harris This is great music to work to. In fact I 'used' this album many times during winter 2014, to perk myself up and then get myself focused for a day of cartooning. Kind of a Pavlovian effect to signal that it is time to wake up and begin work!
Minutes of Sleep album begins in an out-of-focus, dreamy style with the first three songs. The music comes into focus with the perky microhouse of "Lean Back", "You Can Always Leave" and "Me to Drift". After this trio of songs, Harris then gradually blurs things back to a smudge. The final sequence of songs slowly disintegrate the mood back to the dreamy tone that opened the album.
Best book of 2014: Talking Smack: Honest Conversations About Drugs by Andrew McMillen
The concept of Talking Smack is simple: Andrew McMillen meets with 14 high-profile Australian musicians, and asks about their experiences with drug-taking.
Naturally the concept appealed to me, given my strong interest in Australian music, as well as my previous pieces about drugs.
Despite my natural attraction to the book, Talking Smack: Honest Conversations About Drugs managed to exceed my expectations. The reason was the clear writing style employed throughout the book.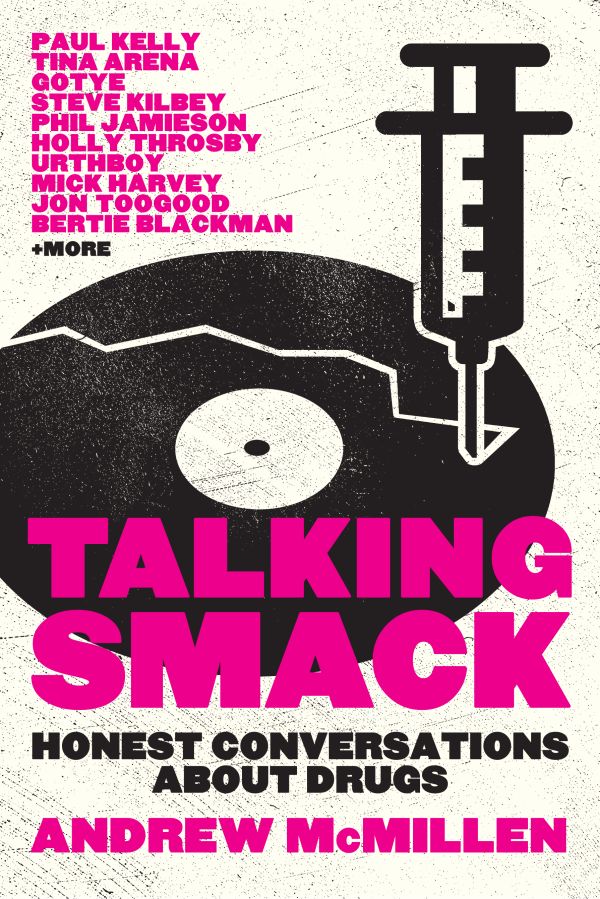 Each of the 14 chapters conveys a clear sense of place. Andrew McMillen interviewed each of the musicians face-to-face, and the environmental conditions of that meeting shines through in the writing. I could imagine what Steve Kilbey's flat was like during the interview, and what Brisbane was like on the Anzac Day when he talked to Jon Toogood. Andrew also tastefully intertwined his personal stories of drug-taking with the artists', allowing himself to come into the picture when it supported, or contrasted with the views of the artist.
Full disclosure: I am Andrew McMillen's brother. However, this is truly my favourite prose book of 2014!
Best graphic novel of 2014: Floating Horizon by Chris Guest
This is a remarkable achievement. A wordless comic about environmental sustainability printed on a single 10 metre long piece of paper.

Floating Horizon flows and morphs between three thematic sections: a sprawling contemporary city, wild bushland (and the various human encroachments into nature) and, finally, a futuristic 'liveable' city.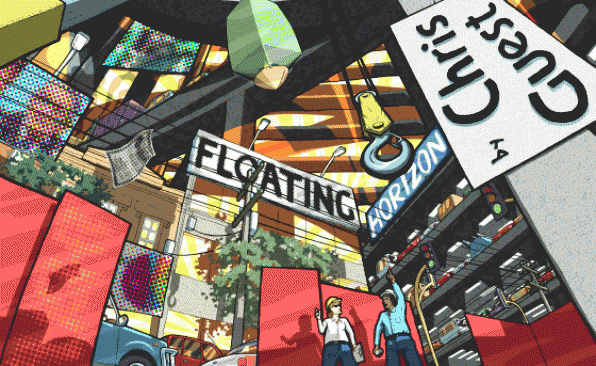 The wordless format is the power of Floating Horizon. Though clearly motivated by his personal vision of environmental responsibility, Chris Guest implicitly invites the reader to ponder things themselves. What are the problems with our current urban sprawl? What makes the 'sustainable' city superior? The book encourages personal reflection, and interpersonal discussion.
Before my printed book arrived, I had already seen the website-quality version of the comic. However, I was glad to spend the time poring over the fine details of the artwork in the book. I enjoyed noticing things that I hadn't previously spotted, such as: the lengthening shadows of suburbia, the colours of sunset reflected in the waterway, the skinny dipper, blimp-assisted logging transportation, green roof-topped houses.
Footnote: I would also like to highlight The Great War (2013) by Joe Sacco, which I read at the same time as Floating Horizon during 2014. Both books share the same curious format of wordless concertina comic, and both provoke a strong contemplative response from readers.
Reading Guest and Sacco's books at the same time inspired me to pull my socks up. The graphical detail of the books inspired me to increase the graphic detail in my own cartoons. Stay tuned!
For the record, Floating Horizon is 10 metres (32 feet) long, and The Great War is 7 metres (24 feet) long. In case that influences your purchasing decision!
Best comic of 2014: At Work In Our Detention Centres: A Guard's Story by Sam Wallman
For those unaware, Australia's current government has a policy of treating asylum seekers with great cruelty. Hundreds of millions of dollars are spent escalating the suffering that these people feel. We go out of our way to multiply their misery. This is the signature policy of a conservative government that swept to power in 2013 by promising to "stop the boats" (prevent refugees arriving by boats) and "axe the tax" (repeal the previous government's carbon tax).
Sam Wallman's At Work In Our Detention Centres: A Guard's Story exposes the conditions inside Australian refugee detention centres. These are facilities that have been deliberately (and expensively) built on foreign islands, to appease the hateful xenophobia of the "patriotic" Aussies who elected the Abbott government.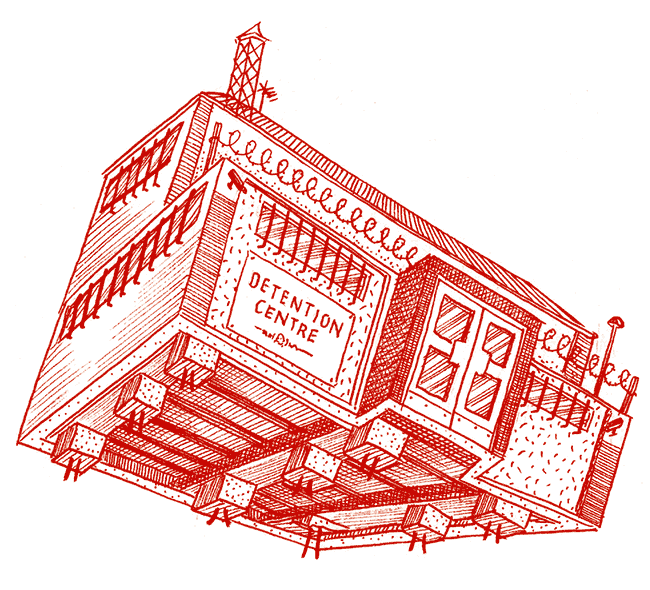 The comic is based on an interview with an ex-employee of Serco, the multinational company contracted to run Australia's offshore detention centres. Wallman's stark artwork has great power, expanding or contracting horizontally and vertically to match the mood of the comic, and the emotion of Wallman's storytelling. The people are drawn vividly, and with great expression. The interview quotes are chosen and arranged in a deliberate way to maximise their impact.
More Australians need to read At Work In Our Detention Centres and reflect upon our asylum seeker policy. My hope is for the compassionate Aussies who will read the comic and decide to demand a government policy-change. My fear is for the hateful Australians who will read the comic and ask "so what?"
Footnote: also check out these 2 other great comics that I first read during 2014: A Day at the Park by Kostas Kiriakakis and Our Toyota Was Fantastic by Boulet. I will let them speak for themselves.
Best film of 2014: 20,000 Days on Earth
Not being much of a film buff, I hardly watched any films during 2014.
However, I really liked 20,000 Days on Earth, which was directed by Iain Forsyth and Jane Pollard.
The film is a about a so-called "day in the life of Nick Cave". The finished product is a unique viewing experience which is part-documentary and part-constructed drama.
There are great shots of Nick Cave and The Bad Seeds recording 2013's excellent album Push the Sky Away. As well as sequences with Cave speaking to his psychotherapist, looking through old photographs, and chauffeuring Kylie Minogue.
I'm not going to add anything else to this description, because by now you've probably decided whether you want to see the film or not!
Best feature article of 2014: The destruction of the Triabunna mill and the fall of Tasmania's woodchip industry by John van Tiggelen
One of my best decisions during 2014 was to subscribe to The Monthly magazine, which is the best showcase of Australian feature writing.
July 2014's issue was a beauty, with many articles of note. For me, the centrepiece was John van Tiggelen's tale of a Tasmanian woodchip mill.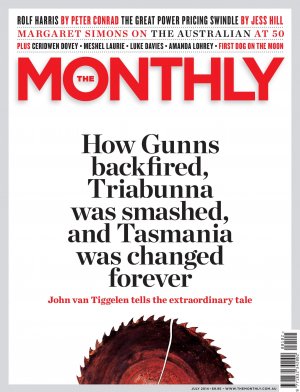 The 8,500 word article describes a syndicate of greenie investors who bought the defunct Triabunna woodchip mill in 2011. In van Tiggelen's words: "the industry was shocked; it was like a vegan had taken over the abattoir."
The property was sold under the condition that it remain an operational chipping mill, despite logging activity being suspended in the local area. But the new owners had other ideas. They decided to covertly disable and destroy their own woodchip mill.
John van Tiggelen's piece shines because of the exclusive access he had to the subjects at the heart of the story. With two days' notice, he was called to Tasmania by mill manager Alec Marr and his team of saboteurs. This was a stroke of genius, as it allowed van Tiggelen to witness the destruction first-hand, rather than simply interviewing the owners after-the-fact.
Reading the article feels exciting. Like you are a participant in the sabotage yourself. But it is about more than just destruction. van Tiggelen interviews many locals about their views on the future of Tasmania's economy, including whether tourism is a viable substitute for logging.
Though my sympathies are naturally on the side of the owners, who wanted to permanently disrupt the logging operation (and, thus, prevent a future government from re-opening the mill), I like that van Tiggelen interviewed a range of people, including those from a logging background. I hope that the tourism-led economy can replace the income lost from the timber industry's closure.
The result is a masterfully-created article which weaves together many threads of fact and description. I learnt many things about a colourful Australian event, and I had a good time learning.
Do yourself a favour and subscribe to The Monthly.
Honourable mention: Why we can't give business free reign by Ross Gittins. Quote: "while I want very much to live in a market economy, I definitely don't want to live in a market society".
Basically it's the Economics Editor of the Sydney Morning Herald saying that societies should choose the limits of how big economic markets become.
It may be more 'efficient' or 'profitable' to increase economic activity. But the economy should be a means-to-an-end, not an end-in-itself. The economy should be contained by other social goals.
This article hit me in the right place, at the right time, while I was trying to gather my thoughts on this issue.
Stay tuned for more comics in 2015.