Why is Australian cartoonist Stuart McMillen inside a box?
Why is Australian cartoonist Stuart McMillen inside a box?
October 2012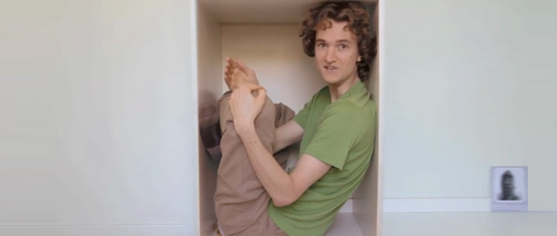 Q: What would compel me, an ordinary cartoonist, to videotape myself cramped inside a 80 x 55 x 60 cm box?
A: To explain the concept behind my Rat Park comic, and to encourage you to dig deep with crowdfunding pledges.
Rat Park crowdfunding video #2: cartoonist in a box
I think the video speaks for itself. Please share it with your friends as a fun way to raise awareness of my Rat Park project.
The latest with me and my crowdfunding campaign:
My War on Drugs comic has had a great response, with over 56,000 readers in 3 weeks. Most readers found it to be a fresh way of looking at a complex issue.
My Rat Park crowdfunding project has raised over $2,600 in pledges from 75 supporters in 3 weeks. Brilliant!
Still, my campaign needs approx $3,400 to succeed. My $6,000 target for Rat Park is based on carefully-budgeted costs of producing and posting my rewards, plus the 2 months it will take me to write and draw the comic.
I have decided to extend Rat Park to be a 40 page comic. Originally conceived as a 28 page comic (the same as War on Drugs), it became clear I needed more space to fully tell the story of Rat Park. I am willing to create, print and post these longer comics at the original prices listed on my crowdfunding page.
One of the original Rat Park researchers, Prof. Bruce Alexander, has agreed to help me by reviewing draft versions of my comic, and by digging up reference photographs from the original experiment. Bruce is proving to be a friendly, helpful person to work with!
Since one of my supporters has ordered a wall print through the crowdfunding campaign, I decided to print it up early, and photograph it for you. The comic booklet and greeting card are there for scale. It is an A1 (594 × 841 mm) size print on high quality 200gsm photosatin paper.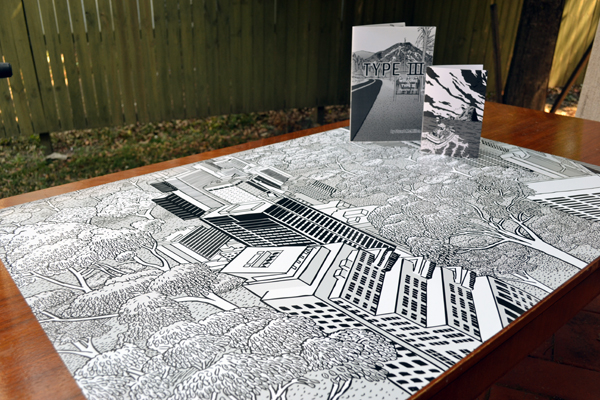 Remember: supporters with merch-envy, or a newfound enthusiasm for funding Rat Park can easily increase their pledge.
Once again, thank you for you support so far – I'm honoured to have you on board. Please do me a huge favour and help share: 1) my "cartoonist inside a box" video – i.e. this page, 2) my Rat Park crowdfunding page, and 3) my War on Drugs comic.
With your support, the fascinating story of Rat Park will be shared with the world through my unique comic style.
Kind regards,
Stuart McMillen
Brisbane, Australia