2013 in review: an interview for Pikitia Press
2013 in review: an interview for Pikitia Press
December 2013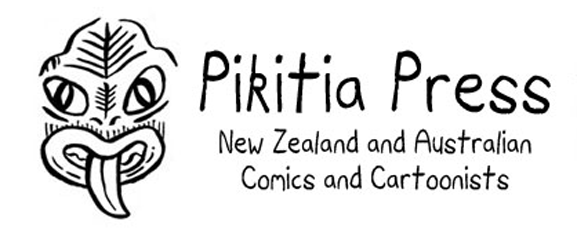 I participated in a short interview with Matt Emery, from website Pikitia Press. He had been publishing a series of interview with Aussie and Kiwi cartoonists, titled 2013 in Review.

What have been your personal cartooning/comics highlights of 2013?
My personal highlight was definitely publishing Rat Park. Wrapping up that science experiment into a 40 pages comic, and then sharing it with the world was a great feeling.
Bruce Alexander, the psychologist featured in Rat Park has told me that my comic led to a renewed interest into his 1970s drug addiction experiments. He was pleased to learn that he was the star of a comic book!
The audience response to Rat Park was almost 100% positive. Gratifyingly, many ex-addicts contacted me and mentioned that they had an emotional reaction to the final page of my comic. They thanked me for creating a sympathetic story which explained to others the emotional dead-end which led them to addiction.
What are some of the comics/cartoonists you've enjoyed in 2013?
New stuff:
Pat Grant – Toormina Video
Hyperbole and a Half – Depression Part 2
Chris Hedges and Joe Sacco – Days of Destruction, Days of Revolt (which is half comics and half prose)
Symbolia magazine (a new quarterly electronic comics-journalism publication)
Old stuff:
Chris Guest – Floating Horizon
Drew Weing – Pup Ponders the Heat Death of the Universe
Rick Vodicka – An Illustrated History of Scientology
Marjane Satrapi – The Complete Persepolis
What is something non-comics that you have enjoyed in 2013?
I'm a huge music fan, so here are some of my favourite albums of 2013:
The Drones – I See Seaweed
Kurt Vile – Wakin on a Pretty Daze
Nick Cave and The Bad Seeds – Push the Sky Away
TV Colours – Purple Skies, Toxic River
Julia Holter – Loud City Song
My Bloody Valentine – mbv
Mark Kozelek & Jimmy LaValle – Perils From the Sea
The best book I read during 2013 was Feral: Searching for Enchantment on the Frontiers of Rewilding by George Monbiot. It's about the concept of 'rewilding' nature: what this means for the ecosystems themselves, as well as what it means for us as humans living near the ecosystems.
What are you looking forward to in 2014?
Rat Park was my 40-page highlight of 2013. In 2014 I will be drawing a 400 page comic story. That's an extra zero on the end.
In 2014 I will be moving away from the 'drugs' topic I covered with War on Drugs and Rat Park, and drawing non-fiction comics about ecological and environmental topics. Things like Peak Oil, energy dependence and post-growth economics.
Trust me, it will be more interesting than it sounds! Join my email list for updates.