Spin the bottle
Spin the bottle
March 2010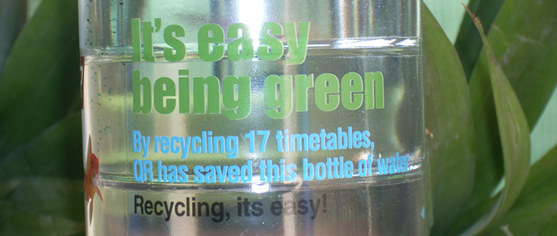 I would like to draw your attention to this bizarre marketing campaign from QR Citytrain.
In a sort of 'feel good' campaign, bottles of water were freely distributed to commuters at Queensland Rail stations around Brisbane. The labels read "It's easy being green. By recycling 17 timetables QR has saved this bottle of water. Recycling, it's easy!"
So let me get this straight….
QR begins running its trains on a new timetable.
With the old timetables now redundant, QR bundles up its remaining supplies of outdated timetables and encourages commuters to deposit their old timetables at train stations.
QR recycles these old timetables.
QR calculates the embodied energy of this pulped paper compared to sourcing paper from freshly logged trees.
QR calculates the embodied energy of a bottle of water.
QR 'spends' the embodied energy value that it saved through its paper recycling program by purchasing appropriate quantities of bottled water to distribute to random commuters.
The concept behind this campaign is utterly puzzling. Though not at the 'deceptive'/'unethical' end of the greenwash spectrum, the logic of QR's campaign is deeply flawed.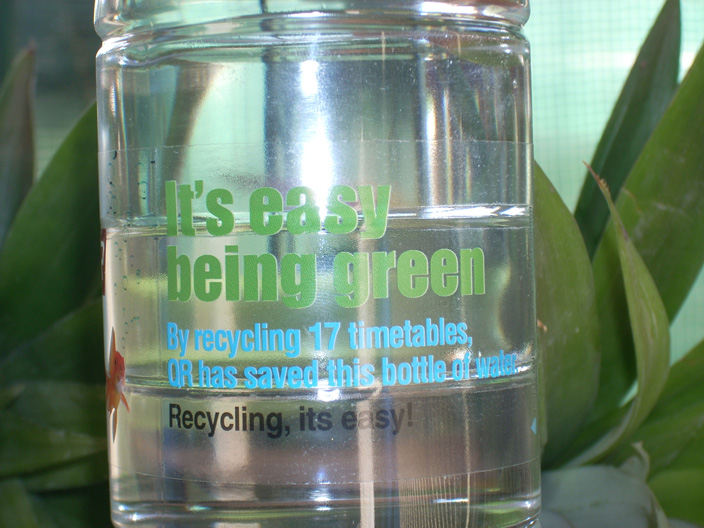 The campaign concept implies that QR's resource efficiency efforts are so successful that it is able to provide commuters with 'guilt free' bottles of water. It has carefully measured the typical energy costs of 'business as usual', as well as the lower energy alternatives that it could also adopt. The problem is that QR implies that the 'business as usual' consumption pattern is the position to return to, rather than to point to descend from.
In other words, instead of creating genuine savings with their actions, QR are comfortable adding and subtracting embodied energy brownie points and arriving back at the very place that they started!
(I won't even begin to elaborate upon the fact that the embodied energy of QR's paper consumption pales in comparison to all other parts of its operations…including the trains themselves!)
To be fair, this bottled water campaign was conducted in late 2008, so these comments are not exactly timely. (I have been meaning to photograph this bottle for some time…) However, the flawed logic of the campaign serves a fair reminder of what can happen when spin doctors overstep the boundaries of common sense.
Hopefully looking back to this campaign can teach us lessons for the way forward. Can we please focus on achieving genuine resource efficiency results from our sustainability initiatives.