A pit stop for the Typhoon
A pit stop for the Typhoon
August 2009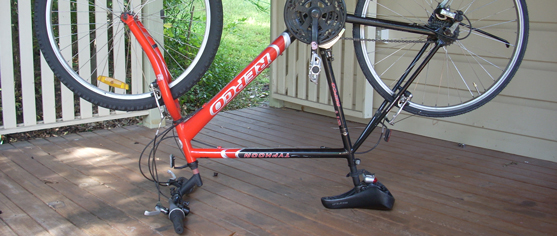 I am a regular commuter cyclist, but have long been aware that I am riding a bike that is below par. A recent tyre puncture made me think about changing my old, knobbly mountain bike tyres across to slimline road tyres. Here's a photo of the deadly 'Typhoon' in the process of having the tyres swapped across:
The effect of changing tyres is immediately noticeable! The rolling resistance between my bike and the road has been dramatically reduced, and I'm sure I am easily picking up an extra 5-10km/h speed just cruising along the road. Although I have now swapped both tyres across to the thin road tyres, I took the bike for a quick spin the way it appears in the photo (front tyre chunky, back tyre thin), and the difference was noticeable, even with a half-job on the mechanics front!
My Repco bike is one that I would still like to upgrade, but it is great to share the improvement that a small amount of investment can have on the riding experience.