Green tips #1: Adjust your hot water system thermostat
September 2009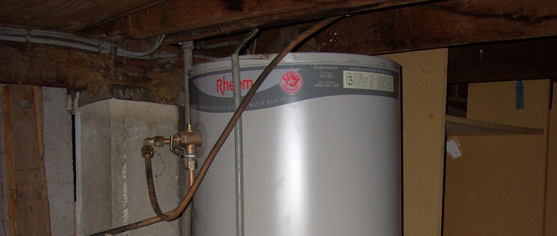 Right now the Australian weather is warming up, with summer just around the corner. The days are hot, and the nights are soon to follow. Against this backdrop, what better time to save money and the environment by spending five minutes tinkering with your hot water system?
Most houses that I have visited have their hot water system set far too hot. They are set to temperatures that require an amount of cold water to be mixed with the hot for all daily activities. In other words, the hot water system is holding water at a temperature far higher than is ever used by members of the household. This wastes both electricity and money.
In my opinion, electric and gas hot water systems should be set to the temperature of the household activity that needs the warmest temperature. This activity is normally showering. Ideally, the house member who likes the warmest shower should be able to step into the shower and simply turn on the 'hot' tap without using any amount of cold.
Here's how to adjust down the thermostat on your hot water system:
Step 1: Turn off your hot water system.
As you adjust the temperature of your hot water system, you will be very near some wires that have serious current in them.
Therefore, go to your house's circuit breaker panel, and turn off the system before doing the following steps. Tell your housemates what you are doing, so that they don't accidentally turn the system back on, until you are finished.
Step 2: Go to your hot water system.

The Rheem electric hot water system under Frottage Cottage (my sharehouse)
Step 2: Open the thermostat cover.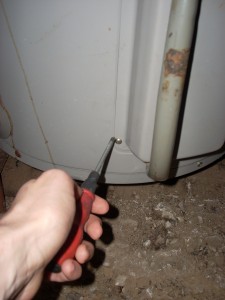 Open the cover that protects the thermostat from damage. This may need a screwdriver.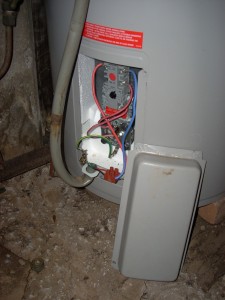 You now have access to the thermostat controls.
Step 4: Find the thermostat.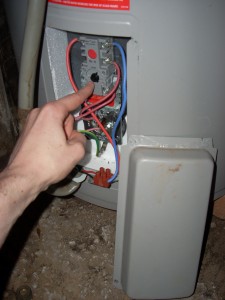 Find the thermostat dial and adjust down to a temperature that is just hot enough for your purposes. This may need a few days of experimentation.
Step 5: Adjust down to a comfortable temperature.
Step 6: Replace the cover, turn the power back on, and enjoy!
Go on…do it! With this small amount of effort you'll feel like a DIY expert (anything that requires me to carry a screwdriver around the house generally makes me feel like a handyman), and you will automatically save money on future energy bills. You can always adjust up the temperature for the times when extra guests stay at your house.
It may also be a good idea to let the others in your house know what you are doing, so they don't think the hot water system is broken and call a plumber. Consultation and experimentation are key here.
Note that due to an Australian standard for plumbing and drainage (AS/NZS 3500) hot water systems cannot be adjusted below 60°C. This is to stop the growth of Legionella bacteria in water storage units.